This is a mechanical Ball Turret Position Azimuth Position Indicator, Sperry part number 11585, used in the Sperry ball turret in WWII-era heavy bombers such as the B-17 Flying Fortress and B-24 Liberator.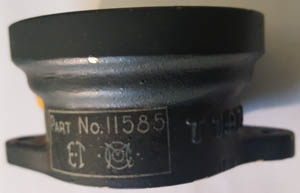 Mounted within the ball turret at the right foot of the ball turret gunner, it was connected to a rotating mechanical control cable.
The round turret silhouette in the centre of the dial rotated as the turret rotated relative to the forward direction of the aircraft.
Thus, should the ball turret gunner hear "bandit at 4 o'clock low", he would know to rotate the turret to that position on the dial in order to greet the incoming foe with 50 cal MG's.
The field of view of the ball turret gunner was actually quite poor and it wasn't difficult for the gunner to lose orientation with respect to the direction of the aircraft. The dial measures 2.25 inches across and is ~1.25 inches deep.
Out of stock more required please contact me