1 2 3 4 5 6 7 8 9 10 11 12 13 14 15 16 17

Welcome to the reference section, this section is stuffed with info some of the best stories and information on the net. Great for experienced and new enthusiasts a like If you have a story or information please forward it to me you may qualify for a voucher.
Enjoy
Click on the Spitfire below to see a Spitfire scaring the life out of an unsuspecting journalist warning contains strong language but very funny.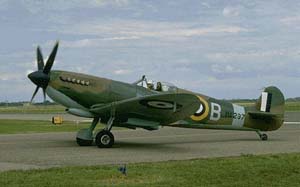 Reference Contents
Page 0ne: Dowding, & Fighter pilots
Page Three: Part numbers and technical information
Page Four: Cockpit and aircraft competition
Page Five: Pictures of the Lancaster main panel close up
Page Six: Aviation adverts from WW2
Page Seven: Pictures of a Spitfirespares member's Spitfire project
Page Eight: Major changes in Spitfire evolution
Page Nine: Spitfire radio sets
Page Ten: The Mosquito
Page Eleven: Hawker Tempest and Typhoon
Page Thirteen: The P47 Thunderbolt
Page Fourteen: Superb 3D Graphics of the Spitfire ,Hurricane and Tempest
Page Fifteen: Decorations and insignia of the wartime RAF
Page Sixteen: Lancaster Project by Norman Groom
Page Seventeen: The Nanton Lancaster Museum
Air Marshal Sir Hugh Dowding
Leader of fighter command During the Battle of Britain.
Dowding introduced Radar and set up a network of fighter groups to defend Britain .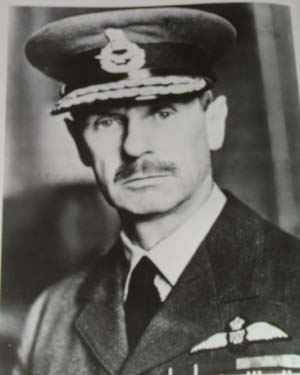 In 1940, the Battle of Britain was fought and won by Great Britain. This was the first major air battle of World War Two and the British victory was attributable to the Fighter Command and its Commander-in-Chief, Air Chief Marshal Hugh Dowding. Dowding's remarkable career was marked by controversy and political intrigue. He was dismissed from his post in the same year despite his role in winning the crucial Battle of Britain.
Hugh Dowding was born into a middle class Victorian family on 24 April 1882. He was educated at Winchester and entered the Royal Military Academy, Woolwich in 1899 at age 17. He was commissioned as a gunner with the rank of Second Lieutenant a year later, and served tours in several countries including Hong Kong, Ceylon, Gibraltar and India. Dowding returned to England in 1913 to attend the Camberley Staff Course. However, he became disillusioned with the Army because of its slow promotion prospects and its conventional nature of training. The Royal Flying Club (RFC) had just been formed a year earlier, in April 1912. It needed men who were individualists and Dowding seized the opportunity. He received his wings as a full-fledged pilot in the RFC in the spring of 1914.
When World War One broke out in 1914, Dowding pressed for and was posted to France. In France, he gained experience and competency in flying and in the technical aspects of aviation. During the war years, he rose quickly through the ranks. In 1915, he was given his first command - the No.16 squadron. After France, he went back to England and was responsible for the training of the RFC. He was acknowledged to be an authority on training and the Royal Air Force, being an expanding new Service, offered many opportunities. He was promoted to Brigadier-General in 1918, aged 35, less than four years after he obtained his flying wings.
The period immediately after the war was a time of turmoil for the new Air Service, which had to fight to survive as an independent service because of the lack of public confidence in its future. On the personal front, he suffered a tragedy when his wife of only two years died. He withdrew from activities that required socialising and devoted all his time and effort into his work.
In the post war years, he assumed several appointments at the Air Ministry in London, including the Director of Training, a post for which he was well suited in view of his earlier experience. In 1930, he was appointed as an Air Member for Supply and Research to the Air Council and used this opportunity to invite two private companies to tender and produce better airplanes. The results of this were the famous Spitfire and the Hurricane fighter planes. His most important contribution, however, may be his development of what is now known as radar, but which was then known as radio direction finding (RDF). He was one of the earliest enthusiasts who foresaw its potential in air defence.
In 1933, he was promoted to Air Marshal and in 1936, became the first Commander-in-Chief of Fighter Command. He built it up from scratch and was extraordinarily far-sighted in his approach. He incorporated radar into the overall defence system, and created a complex network of communications and control by linking the radar stations and various defence organisations to his headquarters. Fighter Command was then divided into various groups, each with its own commander and headquarters. He was promoted to Air Chief Marshal in 1937.
When the Second World War broke out in 1939, Dowding had to wage another battle, but this one was with the political top brass. He was totally committed to home defence and did not agree with Prime Minister Winston Churchill's request for more Hurricanes to be sent to France. Churchill was under political pressure from France for reinforcements but Dowding knew that if the fighters should be up against the German fighters in France, this would cause a severe depletion to the Home Air Defence System. Had he not won the point, Fighter Command could have been destroyed and the Battle of Britain lost.
The Battle of Britain was fought in the summer of 1940 when German small-scale raids expanded into an offensive. The German air forces ranged against the Fighter Command were formidable. The Luftwaffe had 1,200 long-range bombers, 280 dive bombers, 760 single-engine and 220 twin-engine fighters facing Britain whilst Fighter Command could put up only 42 squadrons of Spitfires and Hurricanes, eight twin-engine fighters and two single-engine squadrons. At the beginning, the Germans had the initiative but as the battle continued, German losses mounted. By the onset of winter, Goering had called off major day attacks. The threat of invasion had been averted. For the first time, the Germans had been thwarted in their plans. The Luftwaffe had been defeated by a numerically inferior force.
However, the moment of glory was not Dowding's to savour. Political manoeuvrings had already been going on regarding his career. He had been bypassed for promotion to the Chief of Air Staff in 1937, although he had been given notice of the promotion earlier. He was then told he had to retire, in order to maintain an adequate flow of promotions in the Service, but the date was repeatedly deferred because of the immediate threat facing the country. In the words of Francis Wilkinson, a one-time subordinate of Dowding: 'It was fantastic that a Commander-in-Chief with all the burdens of the world on his shoulders and fighting one of the major battles of the world, should not know if he was going to be kept on and have to haggle about whether he was to relinquish his Command or to retire altogether from the Service."
In a stunning blow to Dowding, he was sacked as the C-in-C, Fighter Command, in Nov 1940, shortly after the Battle of Britain was won. There had been a clash between his two Group Commanders, Air Vice Marshal Keith Park, Commander of Group 11, and Air Vice Marshal Leigh-Mallory, Commander of Group 12, the two principal Groups fighting the battle, over the issue of fighting tactics. Dowding, being closely allied with Park, was caught in the midst of this controversy. Leigh Mallory apparently had the support of the Air Ministry, which called a meeting to discuss Dowding's handling of the battle. Shortly after the meeting, Dowding was told abruptly to relinquish his command, and Park was to follow suit soon after.
After Dowding's removal as Commander-in-Chief from the Fighter Command, he was posted to the United States. When he returned to Britain, he headed a study on economics of RAF manpower. He finally retired from the RAF in 1942.
It seems curious that a victorious commander of one of the decisive battles of World War Two was denied an award normally given out to war heroes and at the same time be dismissed from his command. The situation was not helped by Dowding's own reticent and reserved character, which had in fact earned him the nickname of 'stuffy' early on in his career. Although the issue of his dismissal had often been criticised by the press, Dowding himself had refused to comment. The recognition owed him was finally given in 1943, three years after the Battle of Britain was fought and won. He was honoured with a baronetcy.
Dowding's achievements may not have received the recognition it ought to then, but the course of history has vindicated him. It is now generally accepted that Dowding had received unjust treatment. In the film Battle of Britain inspired by the Battle, which starred Laurence Olivier and which was released in 1969, Dowding's full story was told, and his worth recognised. He died the following year, on 15 February 1970, aged 87.
Robert Roland Stanford Tuck DFC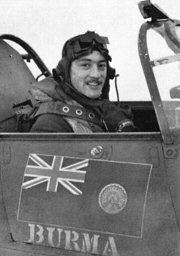 Robert Roland Stanford Tuck was born on July 1st 1916 at Catford, London. After leaving St. Dunstan's College, Reading in 1932 he became a sea cadet before joining the RAF in 1935 with a posting to 3 FTS (Flight Training School) at Grantham. Tuck then joined 65 Squadron in September 1935 until May 1940 when he was posted to 92 Squadron, based at Croydon, as a Flight Commander
During combat on May 23rd 1940, over Dunkirk, Tuck claimed three Bf110's destroyed and a Bf109. The following day he shot down two Do17's, on May 25th he shared a Do17 and on June 2nd he shot down a Bf109, a He111 and damaged two more Bf109's. Due to his bravery Tuck was awarded the DFC on June 11th and received it from King George VI at Hornchurch on June 28th
His combat successes continued with a shared Do17 on July 8th, a damaged Ju88 on July 25th, a shared Ju88 on August 13th and two destroyed Ju88's the following day. On August 18th Tuck attacked a group of Ju88's over Kent where he shot one down and damaged another. During the exchange his Spitfire was hit by return fire and he baled out just east of Tunbridge Wells where he was slightly injured from the landing
Tuck was again involved in another incident on August 25th when his Spitfire was badly damaged during combat with a Do17, which he destroyed, 15 miles off the coast. The aircraft had a dead engine but he glided it back to make a forced landing
On September 11th, during the height of the Battle of Britain, Tuck was posted to command 257 Squadron based at Debden. Leading the Hurricanes into combat on the 15th he shot down a Bf110 and a probable Bf109. On September 23rd he claimed a Bf109, October 4th a Ju88, October 12th a Bf109, October 25th a Bf109 and two more damaged. His last two victories of the Battle were on October 28th where he claimed two "probable" damaged Bf109's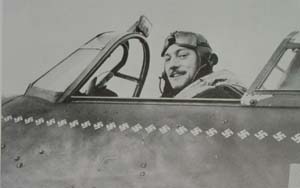 He received a Bar to his DFC on October 25th
During December he shot down a Do17 on the 12th, a Bf109 on the 19th and a Do17 on the 29th. In January 1941 Tuck was awarded the DSO and continued his "scores" in March with a Do17 on the 2nd and another on the 19th. On April 9th, during the night, he shot down a Ju88 and claimed another on April 27th after he had received a second Bar to his DFC on the 11th. Two more victories followed during night operations on May 11th when he shot down a Ju88 and probably another
Tuck was involved in a dogfight with Bf109's, on June 21st, where he claimed two and damaged another before he himself was shot down into the Channel. After spending nearly two hours adrift in a dinghy, he was picked up by a barge and taken to Gravesend, Kent.
In July, 1941, he was appointed Wing Leader at Duxford and claimed two victories over Bf109's, on the 7th and 8th with another Bf109 probably damaged
After a brief trip to America, with several other RAF Fighter Command pilots, he returned to a posting at Biggin Hill as Wing Leader. It was during this posting that saw Tuck's last aerial combat of the war. On January 28th, 1942, while on a low-level mission over northern France, his Spitfire was hit by enemy flak near Boulogne and he was forced to crash land
He was captured by German troops and spent the next three years in several POW (prisoner of war) camps until he made a successful escape on February 1st 1945. After spending some time fighting alongside the advancing Russian troops as an infantry officer he found his way to the British Embassy in Moscow. He eventually boarded a ship from Russia to Southampton, England
With the war now over, he received his final decoration, a DFC (US Air Force) on June 14th 1946, before he finally retired from the RAF and active service on May 13th 1949 as a Wing Commander
Robert Stanford Tuck died on May 5th 1987 at the age of 70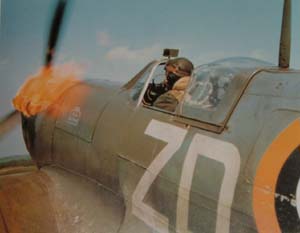 LEWIS, P/O A. G. 41303 South African. 85 & 249 Squadrons
This pilot shot down six aircraft in one day. September 1940.