Welcome to the reference section, if you require further pictures or details for any of the items below please contact us.

1 2 3 4 5 6 7 8 9 10 11 12 13 14 15 16 17

This is a page dedicated to the legendary Mosquito you may be surprised by some of the info on this page. I have allot of Mosquito parts on this site and I can't believe there are not more enthusiasts for this amazing aircraft.
.

Some of the worlds greatest aircraft have achieved fame in roles other than that for which it was originally designed for. No better example of this was the De Havilland Mosquito which was designed as a fast unarmed bomber but became one of the most formidable fighters of the second world war .It was the most versatile of all aircraft in WW2.
The prototype made its first flight on November 25,1940. This was only ten months and twenty-six days after detailed design work had commenced.

Designed during the Munich Crisis of 1938 as a fast unarmed bomber of all wooden construction which would outperform contemporary fighters the Mosquito survived official disinterest to fly in prototype form in 1941. It was obvious from the first flight that the Mosquito was a winner and in comparison trials with a Spitfire V the Mosquito proved superior in speed at all altitudes for its day the Mosquito was the fastest flying machine in service anywhere. With this performance it was obvious that the Mosquito would be an outstanding fighter. The first fighter development was the NFII which carried airborne interception radar and a devastating punch of four .303 calibre machine guns and four 20mm British Hispano cannon. The Mosquito night fighter was continuously developed during the war. The first version to carry centimetric radar equipment was the NF XII. This form of radar introduced the spinning dish scanner and gave the Mosquito a characteristic "bull nose". The final wartime variant of the Mosquito night fighter was the NF30 which differed from its predecessors in having a higher altitude capability derived from the use of Merlin 72, 76, or 113 engines, which greatly increased the speed and altitude performance.
Specifications
Power plant: Two 1,690HP, (at 13,000 ft) Rolls Royce Merlin 113's
Top Speed: 416mph
Ceiling: 36,000 ft
4 * 20 mm British Hispano cannon.
Range: 1,905 miles
Crew: 2
The Mosquito was used as photo-recon, bomber, fighter-bomber, night-fighter, intruder, trainer, pathfinder, target marking, torpedo-bomber, U-boat killer, day ranger, mine layer, and target tug. They could be fitted with varying bomb loads, including the Wallis spinning bomb, up to the 4,000lb (1814kg) bomb or carry rocket projectiles for anti-tank and anti-transport use. The Mosquito served in all theatres of the war and flew from all types of airfields. Some were Carrier based and a Mosquito (LR359) was the first twin engine aircraft to land on a Carrier. They also flew countless missions in civilian garb throughout the war to neutral Sweden carrying despatches, returning with ball bearings and, sometimes, passengers.
As an indication of the versatility of the Mosquito it was equipped, or used, with many different loads. Some of these were experimental only and some were post-war.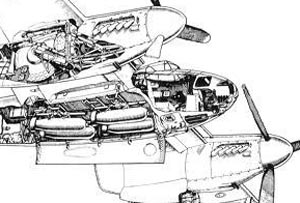 50, 100, 200 gallon drop tanks.
4 x .303in (7.7mm) Browning machine guns.
4 x 20mm British Hispano cannon.
1 x 57mm Molins (or Vickers G) six pounder cannon.
1 x 3.7 in (9.4cm) 32 lb (14.51kg) anti-tank gun.
2 x .303in (7.7mm) remote rearward machine guns in the nacelles.
1 x .303in (7.7mm) remote rearward machine gun in the tail.
4 gun dorsal turret at rear of cockpit.
Rocket Assisted Take Off Gear (RATOG).
6 x 250lb bombs.
4 x 500lb bombs.
6 x 500lb bombs in Avro bomb-carrier.
1 x 4,000lb bomb.
2 x 100 gallon napalmgel tanks.
Highball spherical anti-ship bouncing bomb.
1 x 18 inch Mk XV or XVII torpedo or 1 Naval mine.
Extra bomb bay fuel tanks.
Underwing 500lb bombs.
8 x 25lb solid armour piercing rocket projectiles.
8 x 60 lb semi-armour-piercing rocket projectiles.
1 x 1,050lb Uncle Tom rocket projectile.
Youngman circular segmented air brake.
Helmore Turbinlite airborne searchlight.
Radar and navigation equipment of various types.
Cameras - various still and cine plus photo-flashes.
Weather recording equipment.
Head-up type reflector gun sight.
Clear Air Turbulence research equipment.
Target towing equipment.

A Mosquito, PF604, was used as the launch and recording platform for the Vickers-built rocket powered Miles M52. This was a pilot less supersonic 3/10th scale model aircraft which eventually achieved Mach 1.38 on 9 October 1948 and became the first British aircraft to exceed the speed of sound in level flight.
In all 7,781 Mosquito aircraft were built in 43 variants. They were produced in the UK, Australia and Canada. The last Mosquito built, an NF 38 (VX916), rolled off the production line at Chester on 28th November 1950 but many remained in service around the world well into the 1960's.
A Mosquito FB Mk.XVIII.
The barrel of the 57mm cannon is clearly visible.
External fuel tanks are fitted under the wing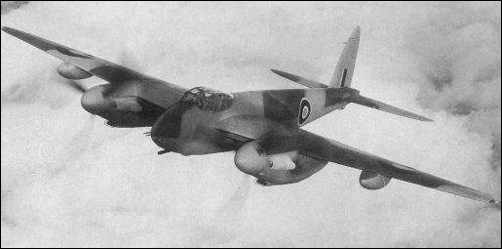 Naval variant the Sea Mosquito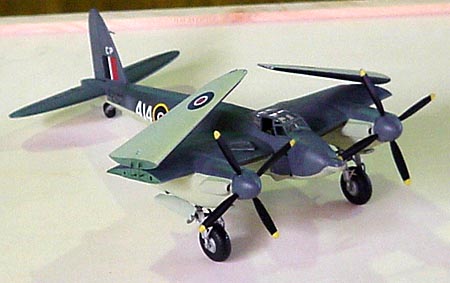 What the opposition had to say about the Mosquito
Shortly after he was politically and personally humiliated by the Mosquito bombing raid on Berlin in January 1943 Reichmarschall Herman Goering had this to say about the aircraft...

"In 1940 I could at least fly as far as Glasgow in most of my aircraft, but not now! It makes me furious when I see the Mosquito. I turn green and yellow with envy.

The British, who can afford aluminium better than we can, knock together a beautiful wooden aircraft that every piano factory over there is building, and they give it a speed which they have now increased yet again. What do you make of that?

There is nothing the British do not have. They have the geniuses and we have the nincompoops. After the war's over I'm going to buy a British radio set - then at least I'll own something that has always worked."
While I may agree with Goering's comments on the merits of the Mosquito and the skills of the British aircraft designers and manufacturer's, I cannot agree with his other remarks, this is typical of Goering's arrogant attitude towards Luftwaffe and it scientists. I don't think there's any doubt about the skills and achievements in technology and design by the Luftwaffe
Wartime colour photograph of Mosquito B Mk.IV DK338 which was photographed during manufacturers' trials at Hatfield
in September 1942 before it was given No. 105 Squadron markings. This particular aircraft eventually crash landed on the
approach to Marham on 1st May 1943.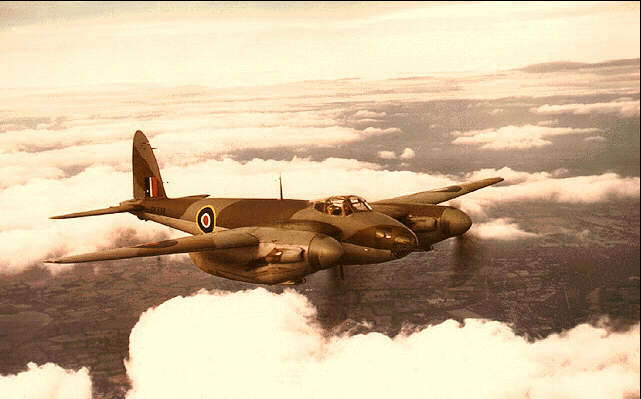 Navigator/Bomber Mel Boulton, Sundre, Alberta, Canada
Pilot, Mike Spack, Brandon, Manitoba, Canada
163 Squadron, RAF Station Wyton, Huntingdon, England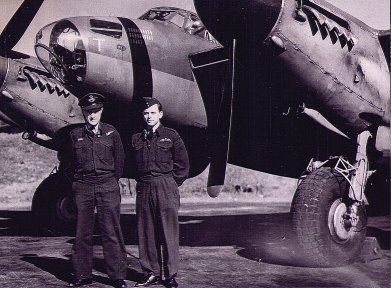 The ground crew at work

4000 lb bomb called "Cookie" being rolled, then lifted into a "Mossie."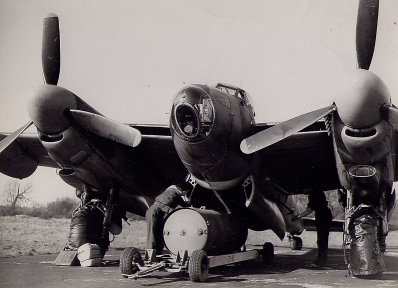 Navigator/Bomber Mel Boulton, Sundre, Alberta, Canada
Pilot, Mike Spack, Brandon, Manitoba, Canada entering their aircraft.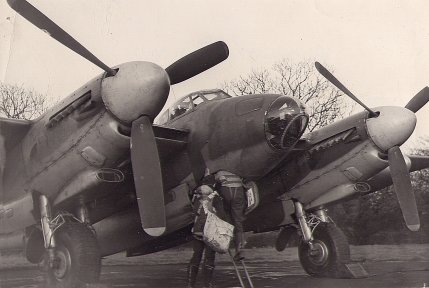 Mosquito Cockpit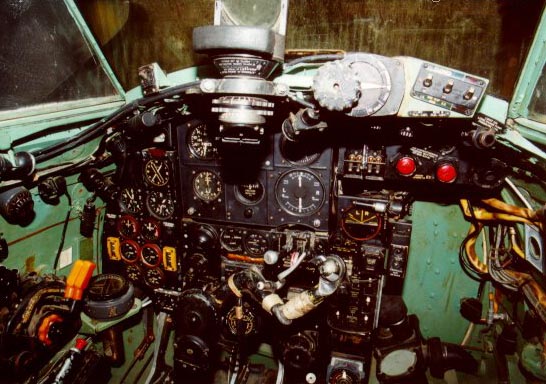 1 2 3 4 5 6 7 8 9 10 11 12 13 14 15 16 17