Mosquito Undercarriage indicator (Page16 Undercarriage indicators 8)

This is an undercarriage indicator for the Mosquito, this instrument is specific to the Mosquito.

Rare in its own right it functions as it should, it has the additional benefit of being dated 1942 and is an early metal version being fitted to the very first operational MKs of the Mosquito.

A little known fact is that the Mosquito could carry a 4000Lb Bomb the same payload as the Boeing B17.

Herman Goring head of the Luftwaffe was a fan of the Mosquito and had this to say about it.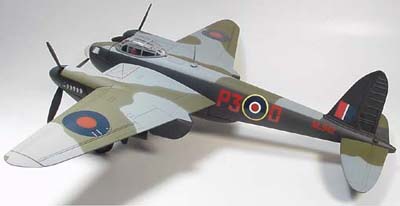 "In 1940 I could at least fly as far as Glasgow in most of my aircraft, but not now! It makes me furious when I see the Mosquito. I turn green and yellow with envy.
The British, who can afford aluminium better than we can, knock together a beautiful wooden aircraft that every piano factory over there is building, and they give it a speed which they have now increased yet again.
What do you make of that?
There is nothing the British do not have. They have the geniuses and we have the nincompoops.
After the war is over I'm going to buy a British radio set - then at least I'll own something that has always worked."
£425