THE SAS
This is the SAS section on these pages will be hard to find parts to convert and supply your wartime SAS vehicles including armaments along with a range of equipment used by the famous SAS.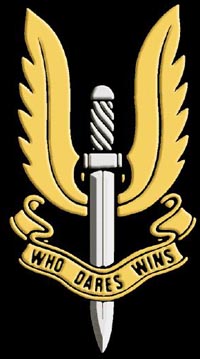 The Special Air Service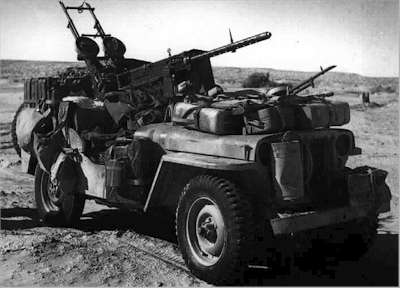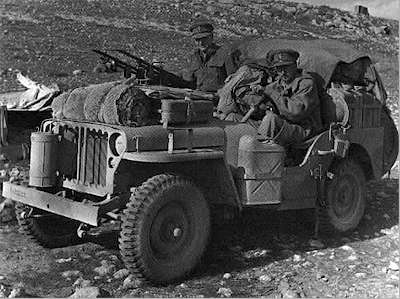 The Special Air Service was a unit of the British army in WWII, formed in July 1941 by David Stirling and originally called "L" Detachment, Special Air Service Brigade — the "L" designation and Air Service name being a tie-in to a British disinformation campaign, trying to deceive the Axis into thinking there was a paratrooper regiment with numerous units operating in the area (the real SAS would 'prove' to the Axis that the fake one existed). It was conceived as a commando force to operate behind enemy lines in the North Africa campaign and initially consisted of five officers and 60 ranks Its first mission, in November 1941, was a parachute drop in support of the operation crusader offensive. Due to German resistance and adverse weather conditions, the mission was a disaster: 22 men, a third of the unit, were killed or captured. Its second mission was a success: transported by the long range desert group, it attacked three airfields in Libya destroying 60 aircraft without loss In September 1942 it was renamed 1st SAS, consisting at that time of four British squadrons, one Free French, one Greek, and the boat section.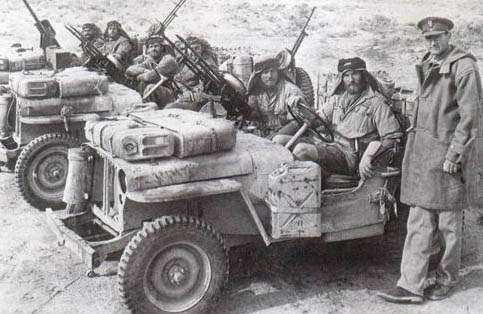 In January 1943, Stirling was captured in Tunisia and Paddy Maine replaced him as commander. In April 1943, the 1st SAS was reorganised into the Special Raiding Squadron under Mayne's command and the Special boat squadron was placed under the command of George Jellico. The Special Raiding Squadron fought in Sicily and Italy along with the 2nd SAS, which had been formed in North Africa in 1943 in part by the re-naming of the small scale raiding group The Special Boat Squadron fought in the Aegean Islands until the end of the war. In 1944 the SAS Brigade was formed from the British 1st and 2nd SAS, the French 3rd and 4th SAS and the Belgium 5th SAS It was tasked with parachute operations behind the German lines in France and carried out operations supporting the Allied advance through Belgium, the Netherlands, and eventually into Germany.
PLEASE NOTE NO POSTAGE CHARGES ARE APPLIED TO THE SHOPPING CART YOUR ITEMS WILL BE SENT AT COST PLUS A CHARGE FOR PACKING ONCE YOUR ORDER IS READY FOR DELIVERY.
click on the pictures to enlarge

Vickers K Machine Gun (pg1 SAS)

This is a superb quality inert reproduction of the Vickers K machine gun. To our knowledge it is the only full metal reproduction available in the world. This reproduction is 1:1 scale and weighs the same as the original making it suitable for aircraft restoration and re enactors VCR act applies to this piece. Over seas buyers should check the legislation applicable in their country before ordering. These are make to order only and proof that you are covered by the exceptions in the VCR act will be required. The Vickers has been designed to be compatible with a gas conversion to allow simulated firing, the Vickers, has a 10mm gas port into the barrel underneath, between the front pintle mount holes.

The Vickers K was originally used by the RAF as it had a high rate of fire which made it suitable for shooting down aircraft.

David Stirling formed the SAS and he found that the Vickers K gun was an ideal weapon for the types of missions which they would be undertaking.

The high rate of fire made it so the SAS troopers would be able to get as many bullets into the target without having to stay on the ground longer than necessary.

The Vickers K was fitted to a number of two- and three-seat aircraft in RAF service such as the Fairey Battle
and Hampton. It was also used in gun turrets, such as the dorsal turret in the Bristol Blenheim and the nose turret in the Whitley.

Now with removable magazine.

Made to order email before purchase you must be able to comply with the VCR act.

£850

.50 Calibre Ammo Box (pg1 SAS)

originally used in the WWII B-17 "Flying Fortress" .50 Caliber Ammo magazine. New Condition, in the original box Type 0-1, these were the clip on style used on the 50calls used by the SAS.

£155

Original Thompson sub machine gun manual (pg1 SAS)

Here is an original 1942 dated smalls arms training manual for the Thompson sub machine Gun. Good original condition. The Thompson was the MG in popular use by the SAS.

N/A

Please note this is only available to collectors and re enactors for display only in the UK.

Fairburn Sykes knife (pg1 SAS)

Here is an exact reproduction of the famous WWII Fairburn Sykes knife in Sheffield steel complete with a copy of the scabbard in leather. This knife was used by commandoes and the SAS and was a lethal weapon in trained hands. Shown under during sentry removal training in WWII.

Will not be sold to anyone under 18.

Foreign buyers should check they are legally allowed to import and own this knife. No responsibility will be taken for custom seizers overseas you must check the laws relating to this purchase.

£75

Compton Webb SAS cap (pg1 SAS)

This is a very small size cap made by Compton Webb, well known military hat makers. It has a SAS badge attached, the badge looks to have patina but I cannot tell if it is original. I have no history for this cap and cannot claim it was worn by anyone in the SAS. It is an original cap with an SAS badge and is sold as such.

N/A

WW1 GUARDS BDE Depot Caterham Presentation Framed Photo (pg1 SAS)

A nice presentation photo of WW1 period in its original oak frame & never removed. Size 15 X 13 inches. This shows a early WWI Lorry at the Guards Training Depot at Caterham with 25 Guardsmen of the Grenadier ,Coldstream, Scots ,Irish and Welsh Guardson. Also an "In Memorandum" a list of names to reverse which include the CO of the Kings Company ,Capt Malcolm. This presented to a Doctor J.FULLER on behalf of A.Thorne DSO, possibly the depots CO. Great picture and an interesting RESEARCH project.. Note that all the Guardsmen are either Corporals or Lance Corporals.

Click on the pictures shown left to enlarge them.

Although not related to the SAS I acquired this picture as it is an interesting early piece which may be of interest to my customers.

£120

Howard MK II Sun compass (pg1 SAS arm)

A nice original boxed sun compass in good condition. These are fitted to the SAS Pink Panthers and Special Forces Long Range Desert Patrol Vehicles.

N/A

Original 50 cal links (pg3 arm)

Here we have new old stock 50 calibre links in their original box.10 links in each box. If you require more than one box postage will be combined.

see these in armaments link

Ralph Bagnold founded the LRDG, that with the SAS, played such an important part in the war in Africa during WWII

He made the first recorded east to west crossing of the Libyan Desert. Bagnold and his team of like-minded explorers developed a sun compass that was unaffected by metal and therefore not affected by magnetism. He also developed the practice of reducing tyre pressure when vehicles drove over loose sand. He also found out that driving at speed was by far the best way to drive over sand dunes – though the driver had to be wary of the fact that dunes fell away steeply at the top.

Bagnold Sun Compass (pg1 SAS)

These are superb reproductions of the Bagnal sun compass used by the SAS and the LRDG. Correct in every aspect, originals are almost impossible to find. Currently three are being made available early in 2012 and it will be first come served, if you wish to pre order please contact me.

Ralph Bagnold founded the LRDG, that with the SAS, played such an important part in the war in Africa during WWII

Click on the pictures to enlarge them.

Bagnold was born in 1896 and died in 1990. His father had been in the Royal Engineers and he had always encouraged his son to seek out information. In 1915, Bagnold himself maintained a family tradition and joined the army. He spent three years fighting in World War One. After the war, he went to Cambridge University to study engineering. He graduated in 1921 and re-joined the army shortly afterwards.

£1500

N/A

SAS/8th army Desert Holster and compass pouch (pg1 SAS)

Here is s superb original holster as used in the desert war by the SAS and 8th Army. Unusual in that it still has the marching compass pouch attached. The popper on the pouch is broken although this does not detract from its overall excellent condition. Almost certainly designed for the .38 Webley available in armaments link.

German Wehrmacht Afrika Korps dust goggles (pg1 SAS)

The German Africa Corps (German: Deutsches Afrikakorps, DAK), or the Afrika Korps as it was popularly called, was the German expeditionary force in Libya and Tunisia during the North African Campaign of World War II. The reputation of the Afrika Korps is synonymous with that of its first commander Erwin Rommel, who later commanded the Panzer Army Africa which evolved into the German-Italian Panzer Army and Army Group Africa. Goggles in good original condition in their original paper envelope.

£45

Click the picture to enlarge

Bren Gun Webbing (pg1 SAS)

This is a bag that carries a Bren when broken down into component parts. original in great condition.

£75

Click on the picture to enlarge it.

This a superb original 1st pattern Denison, worn by the very first British paratroops. It has a full length zip but this was a common MOD on the 1st pattern. Dated 1942 it is a very large size and its original owner was a big man in more respects than one. Read the letter from his son which came with this smock, which despite not listing his war service is a tribute to someone who was obviously a real old school hero, the Denison on its own is a superb piece but with the history attached its unique. It should be possible to trace this soldiers history, which from his character will almost certainly be significant as he served throughout the whole war, first as an underage recruit soon to become a commando.

Named 1st Pattern Original Denison airborne Smock (pg1 SAS)

£1500