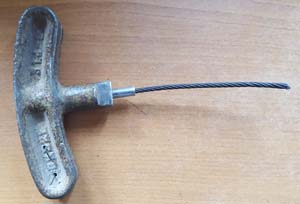 Click on the pictures to enlarge them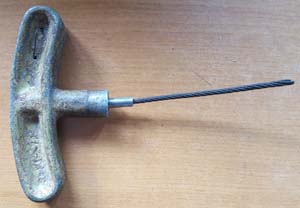 Shown in situ below in the aircraft click on the picture to enlarge it.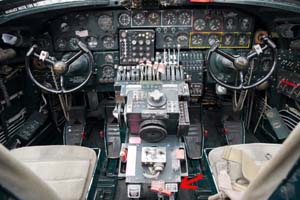 £175


B 24 42-7638 Big Banner Emergency bomb release handle (pg5 Armaments)

This is a great piece of History from a named aircraft B24 Liberator serial number 42-7638 which was recovered from the Zuyder Zee in Holland a large part of which is now dry land. The piece itself firstly opened the bomb doors and on the second pull jettisoned the bombs. Emergency bomb release pull until bomb doors open . Pull again to release bombs . Red light on instrument panel indicates doors are open.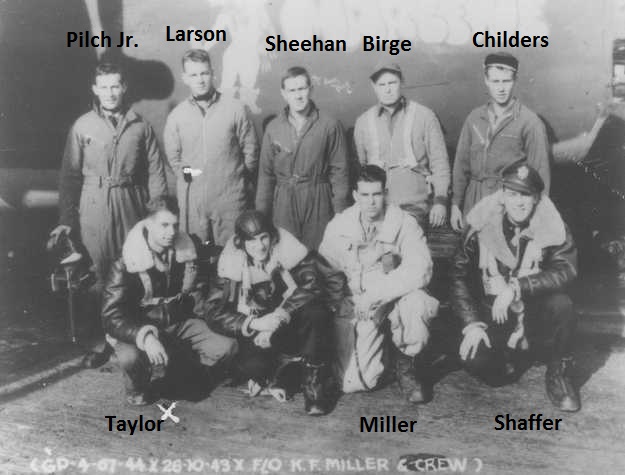 This B-24 Liberator, nicknamed Big Banner, was piloted by Capt. Kent Miller and went on it's final bombing mission on December 22, 1943. It set out from an airbase at Shipdham, England and headed to Munster, Germany where it successfully emptied its payload. It was hit by flak on route back to Shipdham. The Big Banner was ditched in Lake IJsselmeer, Netherlands where it rested until its excavation in August of 1975. All crew members perished with the exception of the co-pilot Charles E. Taylor.
The co-pilot, Charles E. Taylor, wrote the following: "On December 22, 1943, our group bombed Muenster, Germany. We were flying on Oakley's wing, and after leaving the target realized we were both losing the formation. Flak had damaged three of our engines and when we realized we would never make it back to England, Miller gave the order to bail out. Four of the crew did bail out in the rear, but when we opened the bomb bay doors, there was a break in the clouds and we saw we were over water, so the order was changed to prepare for ditching, which six of us did. "We hit the water at over 100-mph and submerged immediately.
When I released my seat belt, I floated free of the plane. No one else appeared in the water, which I have never understood! I swam around for a few minutes, thinking the plane would sink, but it never did, so I released one of the dinghies, which floated away from me. I caught up with it, but with my wet winter flying suit, flak jacket and Mae West on, I could not climb into it, but just put my arm over the side and passed out.
"Obviously, it was not long before a German patrol boat picked me up or I would have died from hypothermia within 15 or 20 minutes, I am quite sure. I was taken to a jail in Amsterdam, awaiting transfer to Frankfurt for interrogation, when I saw that Doug Powers, from Oakley's crew was also there. We chatted for a few moments, until the Germans broke it up. After interrogation, we were sent to Stalag Luft.
"The war in Europe ended on May 8th and on May 13th we were flown to France in B-17s. In June we sailed home, and in September I was 'separated' from the service. The next month I went back to my old job with AT&T Long Lines Department. "Thirty years later [in 1975], the Westfield police called me and informed me that the Royal Dutch Air Force had found my plane, after draining a large area of the Zuyder Zee.
Here is a link with more information on the aircraft http://www.zzairwar.nl/dossiers/148.html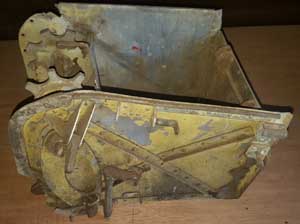 Click on the pictures to enlarge them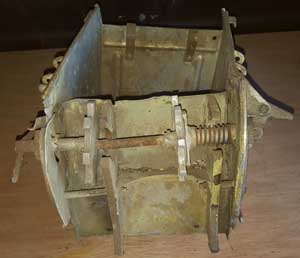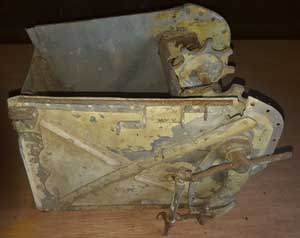 Other parts of this aircraft available in the controls section link here
Sea Fury TF 956 20mm ammo feeder (pg5 Armaments )

Here we have a 20 mm ammunition feeder from Sea Fury TF 956.

Sea Fury TF 956

First flight 05Sep 1947 and delivered to the Royal Navy in Oct47. In 1950 it was operating from HMS Theseus off the Korean coast coded 123-T during the Korean War.

From 1963 to 1970 it was in store with Hawker Siddeley at Langley.

In 1970 it was transferred to the FAAHF based at Yeovilton.

On 10Jun89 after several attempts to get the undercarriage to lower fully including bouncing along the runaway on one undercarriage leg the pilot was forced to bale out and the aircraft crashed into the sea off Prestwick and was destroyed.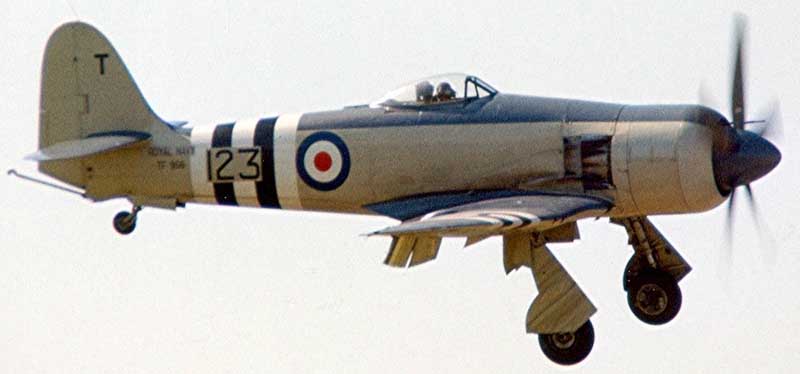 £375