27/05/07
Spitfire Altimeter (pg7 ins)
De-Havilland Hornet/Mosquito control panel(pg1 cont)
OSRAM Gunsight Bulb (pg1 gun)
Our MK VIII Spitfire UPDATED 27/05/07
09/06/07
Hurricane Hydraulic pressure gauge (pg7 ins)
Error preventing display of Gun sight page 2 has been corrected
Mk II Reflector GunSight Mint Boxed(pg1gun)
Bomb Aimers/Pilot watch(pg4 ins)
MK IID Navigation computer(pg3 pilot)
P51D Mustang Oxygen pressure gauge (pg18ins)
23/06/07
Upgraded
Lancaster main panel Complete (pg 21 ins)
Lancaster main panel 2 (pg 21 ins) Bargain price
Spitfire Spares MK VIII Spitfire Update 23rd June 2007
Bristol Blenheim Gunsight bulb holder (pg1 air)
25/06/07
Spitfire Spares MK VIII UPDATED 30/06/07
Lancaster Master Compass bracket(pg3 ins)
05/07/07
Spitfire Spares MKVIII UPDATED 05/07/07
10/07/07
Spitfire Spares MKVIII UPDATED 10/07/07
WOW Spitfire Canopy (pg1 Can)
19/07/07
WWII RAF Ring Sight (pg1 gun)
22/07/07
Spitfire Compass Tray (pg1 air)
26/07/07
Morse training aid (pg1 rad)
03/08/07
Curved Ammo Chute for Turret (pg2 arm)
Ammunition Booster 50 cal (pg2arm)
G Type flying helmet (pg3 pilot)
WWII Ground Controller headset (pg3 rad)
Survival dingy paddles (pg3 pilot)
Jack Box TR 5043(pg3 rad)
DF Loop aerial control box(pg3 rad)
B17 Trailing Aerial (pg3 rad)
Seafire Radio Tuner (pg3 rad)
Harvard Panel (pg 21 ins)
06/08/07
Bristol Engine Manifold (pg1 Pwr)
09/08/07
Mk II Acemaker Giro gunsight spare parts kit (pg2 Gun)
Ammo Feed part 2(pg2 arm)
P4 Lancaster compass(pg4 ins)
18/08/07
Boxed Beaufighter Fuel gauge 2 (pg1 ins)
Directional Giro MK1 (pg10 ins)
8Llb Boost Gauge from Bristol Beaufighter. Also suitable for a battle of Britain Spitfire or Hurricane panel. (pg10 ins)
8Llb Spitfire Boost gauge (pg10 ins)
Lancaster fuel gauge FG 525 (pg10 ins)
Spare case for Boost gauge (pg10 ins)
Stirling Rudder pedals(pg2cont)
21/08/07
Boozer Indicator for Lancaster(pg1 arm)
This is the story of the Spitfire Spares Spitfire.
Boxed WWI Paragon Propeller (pg1 prop)
Warning horn 2 (pg2 misc)
Hurricane inboard profile plan(pg1 air)
26/08/07
Spitfire Spares Mosquito Mk B IV Bomber
04/09/07
Hurricane for sale 4th September 2007
Four pages of picture's great for reference even if you are not buying enjoy.
06/09/07
Rolls-Royce Merlin and Friends for sale
08/09/07
Hurricane for sale 4th September 2007
another page added.
09/09/07
record of the recovery of
A Brewster built Corsair II JS590, 759 Squadron Yeovilton on 09/09/07
15/09/07
Fairchild PT19Throttle Box (pg1 cont)
16/09/07
Spitfire ASI (pg10 ins)
Thunderbolt radio selector FL30 (pg3 rad)
USAF Microphone amplifier 1940 (pg2 rad)
Spitfire Gunsight Dimmer switch (pg1 ele)
Corsair Recovery 09/09/07
Cleaned parts updated 16/09/07
17/09/07
The Spitfire Spares Mk VIII Spitfire
UPDATED 17/09/07 on page 2
18/09/07
Lancaster T1 Bombsight (pg1 Arm)
Bristol Blenheim Rudder Pedals(pg2 cont)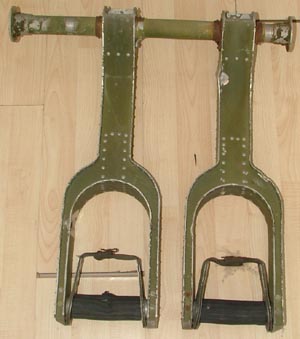 35 Gallon Fuel gauge (pg6 ins)
Red Warning light Spitfire(pg1 light)
Spitfire Spares MKVIII UPDATED 02/10/07
6/10/07
FW 190 Rudder Pedals (pg1 cont)
9/10/07
Lancaster master compass (pg3 ins)
Climb and descend 1940 (pg10 ins)
Oxygen Gauge (pg11 ins)
Spitfire rev counter (pg11 ins)
Airministry eight day clock (pg11 ins)
Lancaster Porthole (pg1 can)
Merlin Rocker Covers (pg2 pwr)
15/10/07
Spitfire Chassis Valve block (pg1 UC)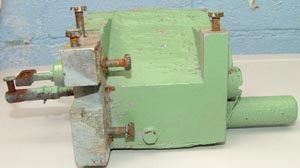 16/10/07
18/10/07
23/10/07
26/10/07
I am afraid the pictures aren't the best its difficult to get access for better pictures at present so please bear with me I will upgrade them ASAP.
RR Merlin 135 engine (pg2 pwr)
Merlin 724-1C engine (pg2 pwr)
Merlin RR 134 ex Hornet Engine(pg2 pwr)
04/11/07
Our Mk VIII Replica runs see video here 04/11/07
04/11/07