Welcome To
The 2nd Battle of Britain living History Show June 9th and 10th 2012
Updated 31st May 2012
Sign up for updates by email link
Important news the site for this show has been changed to a much superior, larger location, with better facility's
The new site is WSRA Fields Norton Fitzwarren Taunton TA4 1BH
Directions and maps will be available on this page asap.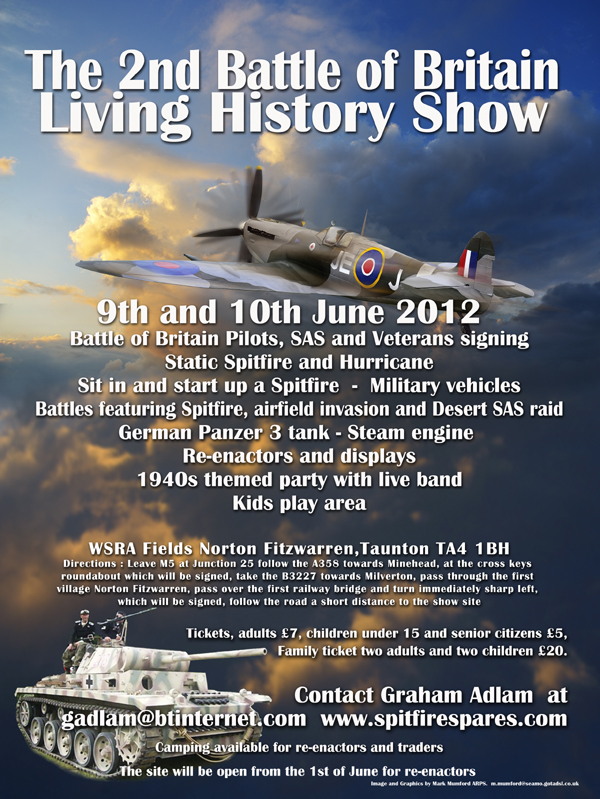 Download this poster for printing link
Then 2nd Battle of Britain Living History display program.
10am show gates open and close at 6pm
Safety first Please stay out of the arena and other non public areas at all times
Saturday night 1940's party
Tickets for the Saturday night party are on sale in the large Marquee. Please note there is a dress code for the party either 1940's dress or smart.
Spitfire start ups.
Spitfire start ups. These can be booked through Richard Bass at the Spitfire RAF display. Please note there is a charge of £35 to cover fuel and maintenance the engine burns between 1 to 1 1/2 gallons a minute of 100 octane aviation fuel. You will be able to sit in the cockpit for around 20 minutes and start up and run the engine for two minutes. This is the maximum time it can be run before it starts to over heat. There are limited slots as the engine takes a long time to cool down so booking times are approximate. First come first served.
11 am Weapons display in the main arena, a demonstration of WWII fire power.
11.30 am 1940s pin up Annie Andrews singing in the Big Marquee
12.00 Bill Green Battle of Britain Fighter Pilot and hopefully other veterans will be signing your books , pictures etc at the VIP tent, there will be a small charge which Bill donates to charity. Do not miss this chance to meet one of this countries great Hero's.
1pm : See the Desert SAS raid the German camp and attempt to destroy the Panzer III tank in the main arena. These tough special forces initially operated in the Deserts of North Africa miles behind enemy lines and had to be self sufficient. Their specially modified jeeps carried huge amounts of petrol and were very heavily armed with rapid firing machine guns.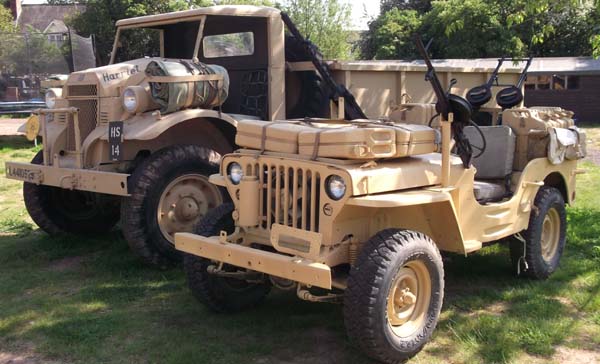 2pm: The main Battle , the scenario surrounds a bridge taken by the Allies in France shortly after D day. Allied forces have set up a temporary airstrip and are attempting to hold the bridge until the main allied forces arrive. The Germans lead by a Panzer III tank launch a counter attack in an attempt to re take the bridge. Please note there will be loud piro technics and Gun fire. No one must enter the arena at any time please observe the signs and stay safe. The purpose of this Battle is to show the public just how tough War is and the sacrifices made by previous generations to protect our freedoms and in no way glorifies war.
3.30 PM The military Vehicles on display will parade in the main arena.
There are allot of displays for you to look at and various trade stands, the Re enactors are all keen to talk to you and explain the roles of their chosen subjects in the 1940's.
In conjunction with the South West Re enactors forum link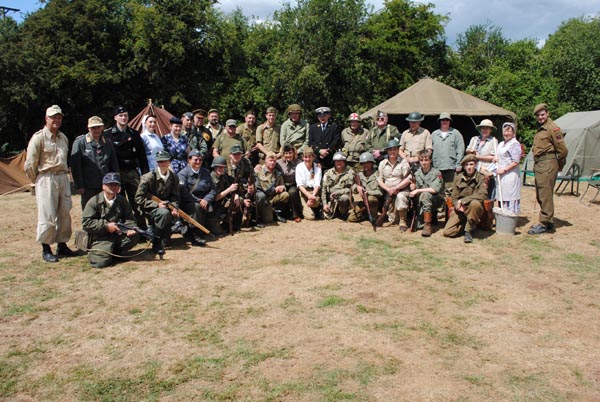 This years Band has just been confirmed for the Saturday night party for the 2012 show
Moonlight Serenade Orchestra UK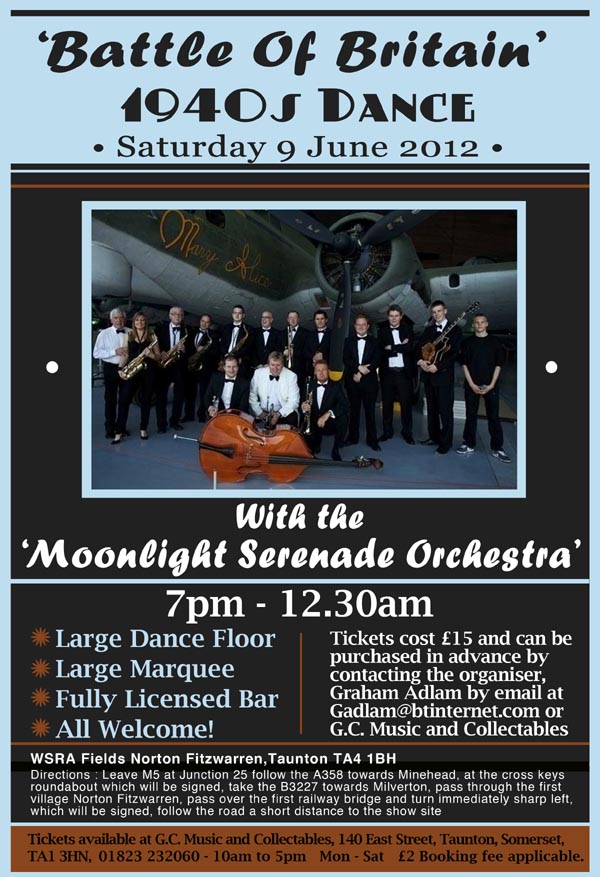 Download this poster for printing link
Founded by trumpeter Kevin Cunningham, the Moonlight Serenade Orchestra UK has wowed audiences in Concert Halls and Theatres all over Great Britain. Known for its mix of Big Band Swing teamed with outstanding vocals, the Orchestra's repertoire ranges from the classics of Glenn Miller through Count Basie, Tommy Dorsey and Benny Goodman to the cool vibe of Sinatra with a touch of Gene Krupa thrown in.
Our musicians have credits ranging from 1920's trad jazz, BBC Big Band, Jazz Funk and West End shows behind them.
In Concert, in addition to Big Band numbers, there are solos spots from a number of our top notch musicians and fabulous renditions from our Star vocalists including possibly the oldest swinger in town Mr Pat O'Hare formerly of the BBC Radio's Northern Dance Orchestra
From playing under the wing of a Bomber at the American Air Museum to selling out their appearance at the Edinburgh Fringe Festival, the MSO UK always hits the right notes
The Moonlight Serenade Orchestra UK's musicians happily state that they are the hardest swinging band in the UK but don't take our word for it, come and see for yourselves! at the Battle of Britain living history show 2012.
Play list
We'll Meet Again (theme from tv series) American Patrol Opus One It Had To Be You Bill Jeep Jockey Jump At Last Down By The Riverside Hawaiian War Chant One O'Clock Jump Folks Who Live On The Hill St Louis Blues Moonlight Serenade Tangerine Moon River Pennsylvania 65000 Take The A Train Woodchoppers Ball Switched On Swing One For My Baby String Of Pearls You Made Me Love You Little Brown Jug When The Saints Vera Lynn Medley Sweet Georgia Brown My Way In The Mood Rule Britannia/God Save the Queen
Just booked as an additional act 1940s Pin up and talented singer Annie Andrews, you can meet Annie at the show she will be performing on Saturday night and during the day on Sunday.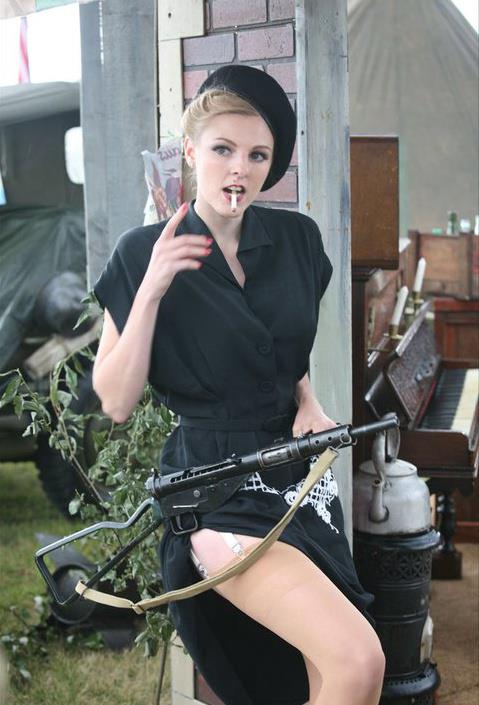 Talented, unique, yet traditional Annie Andrews is a 1940's pin up singer with a big band swing style.
With extensive training and experience in musical theatre, film/TV and dance, Annie is an outstanding performer who delights her audiences with songs from the great artists of the era - guaranteed to get any audience to their feet.

Advance tickets for members of the public will are available at £15 per head this will be a ticket only event and numbers will limited so early booking is essential this will include free entry to the show on either Saturday or Sunday re enactors and exhibitors will be admitted free. A strict dress code will be in force of either 1940s clothing/uniforms or evening dress no jeans or tee shirts. Due to the size of this event a large marquee will be erected on site with stage lighting, hard dance floor and carpeted seating area. Food and drink will be available on site.
Buy Tickets now each ticket purchased will give one adult free entry to the Show on either Saturday or Sunday.
£15 each
Saturday the 9th June party Moonlight Serenade Orchestra


The superb Battle for Europe group in their authentic RAF Kit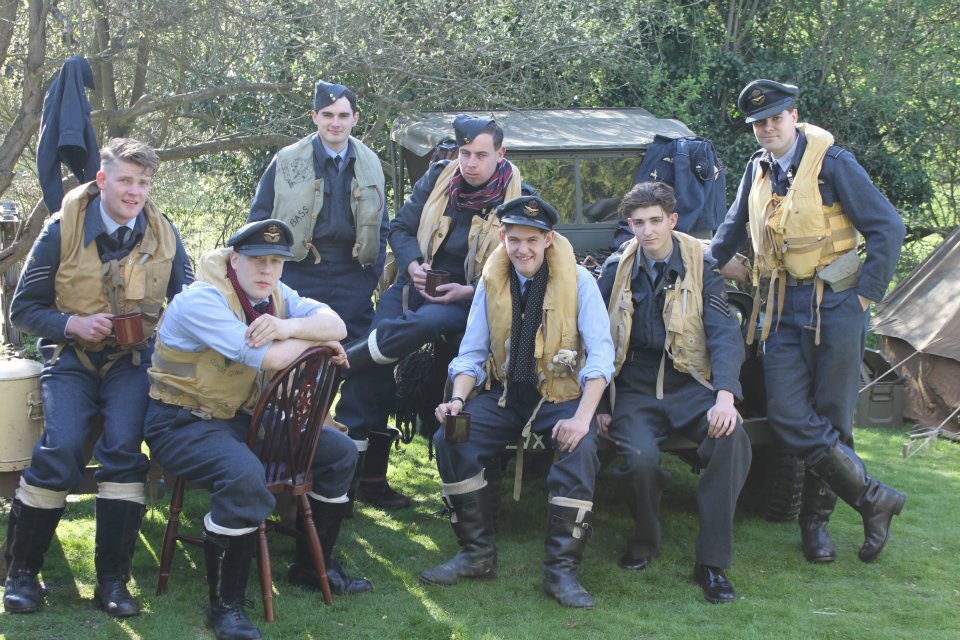 Dicky Bass and the battle for Europe crew will be setting up their display around the Spitfire at this years show.
Just confirmed for the show one of the best German Re enactors groups in the Country the PSG supported by their superb Panzer III tank, this group has won top awards for their displays at some of the biggest shows in the UK.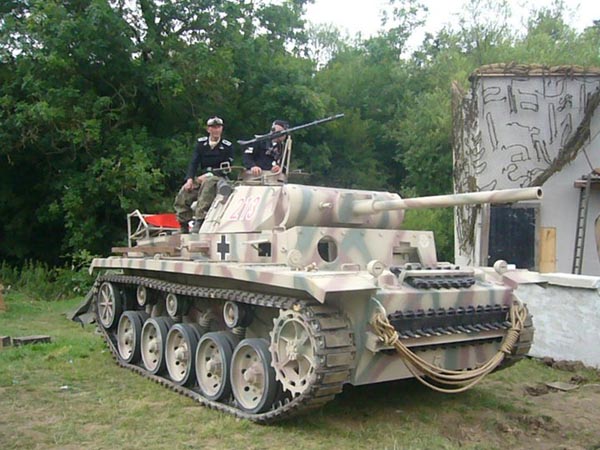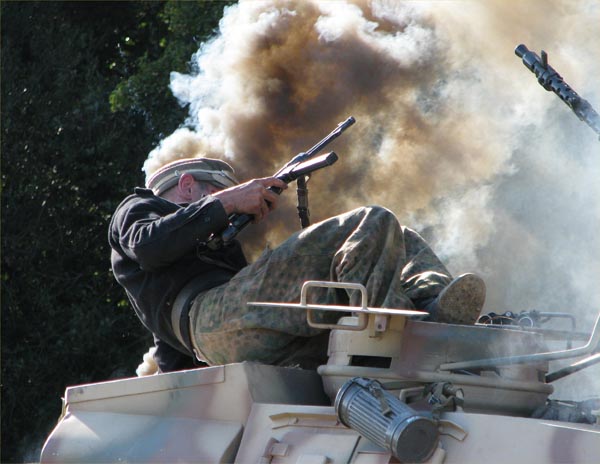 See last years show here link
All re enactors, displays and military vehicle owners will be admitted free to the show, camping and evening party. You must have booked in and must be part of a display, walk in re enactors who are not booked in should apply for tickets.
Information and applications forms for 2012 are now available on the following links.
map with new location now available for download on how to find us link under
How to find us link
Displays and re enactors application link
Military Vehicle application link
Traders application link
Show Rules health and safety link
Posters and flyers now available you can print from this link or alternatively request some by post click link for post please remember to send your address.
Lastly we hope you enjoy www.SpitfireSpares.com and look forward to hearing from you.
Graham Adlam
Spitfires Spares
Site owner
England