Welcome To
The 3rd Battle of Britain living History Show August 31st to 1st September 2013
Sign up for updates by email link
The site is WSRA Fields Norton Fitzwarren Taunton TA4 1BH
How to find us link
We welcome Re enactors and Displays, Military Vehicles, Steam engines and Vintage agricultural Vehicles, Classic cars, wartime scale modellers and traders.
Free entry to the show for the above with free camping, entertainment and concessions.
If you wish to attend this years show please email me or contact me on 07540530645
Applications forms for 2013 show can
now be downloaded from the links shown under
Trade stands cost £80 for the weekend unless you have agreed a concession
If you are unable to download these forms or are not sure which one you should fill in please contact me with your name and address and one will be sent by post.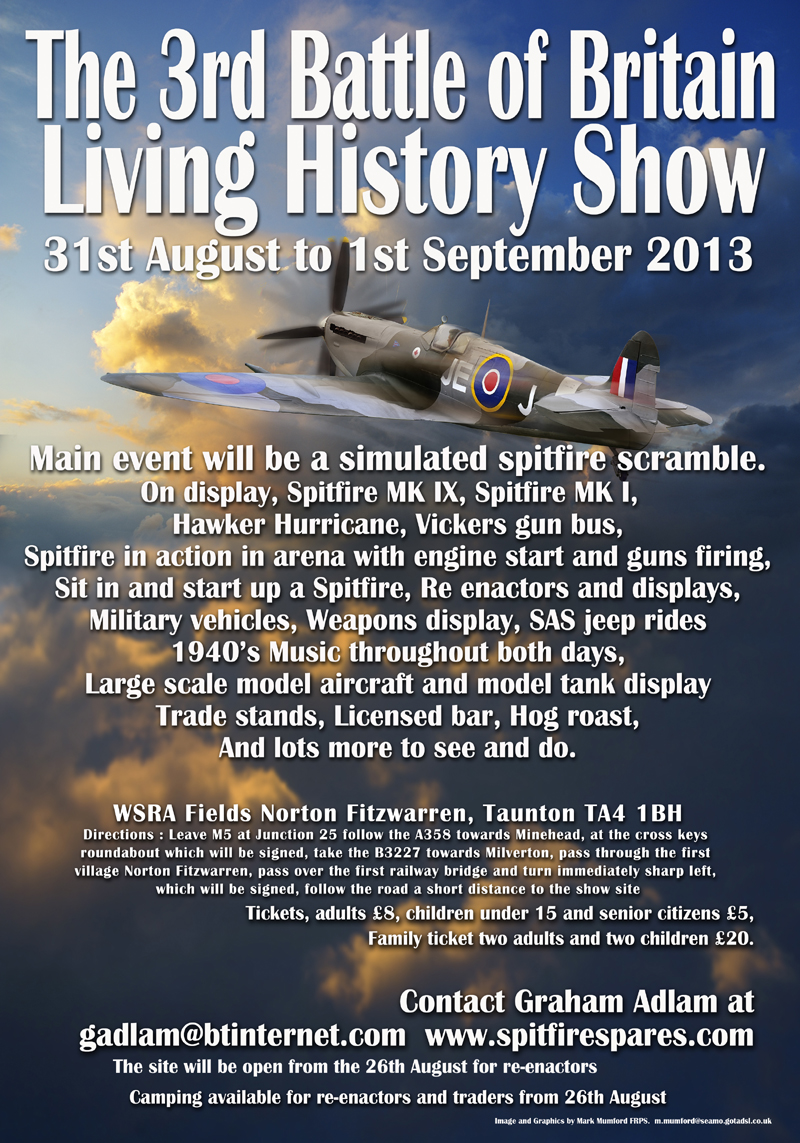 The 3rd Battle of Britain Living History display program.
10am show gates open and close at 6pm 1940's music will be played throughout the day.
Events in the main Arena
Weapons display
Military Vehicle Parade
Main Event Spitfire scramble with simulated airfield invasion supported by special effects
Large Scale Model tank Display
New For 2014
Next years show will offer prizes for the best living history display
£100 for first
£50 for second place
£25 for third.
We will also be giving prizes for the best military Vehicle. The winners will be selected by public vote. You car pass number will be displayed and the public will use this number to vote. To ensure we get the public voting one will also get a prize for selecting the winner, the winning ticket to be drawn from a hat
Just a few pictures from this years show many more to be uploaded. Sorry I would love to give credit to the people who took them but have so many they have got muddled if you spot your picture email me and i will give you credit. If anyone has more they what posted use the same link to send them to me.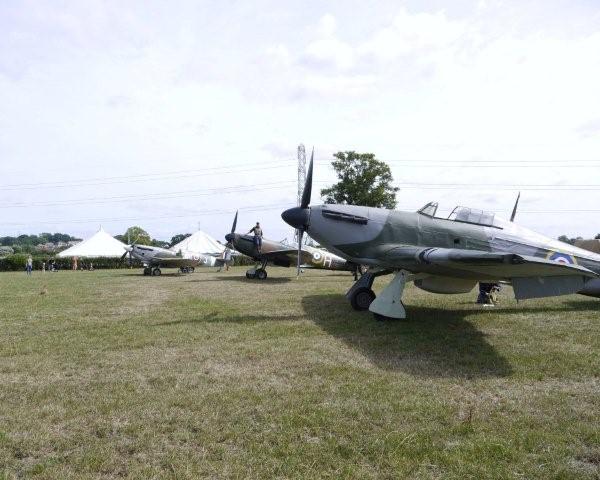 Three Planes Ready to Scramble at a moments notice...
Jasmine Ballardie, Taunton.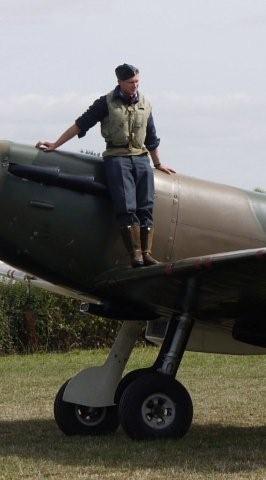 Looking out For Danger on the Horizon
Jasmine Ballardie, Taunton.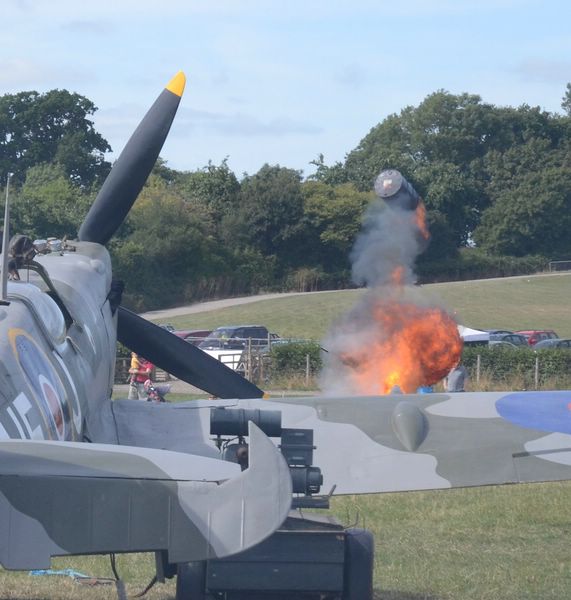 Enemy Aircraft Make light work of the Airfield Fuel Supply
Arthur Cook, Blitz and Peaces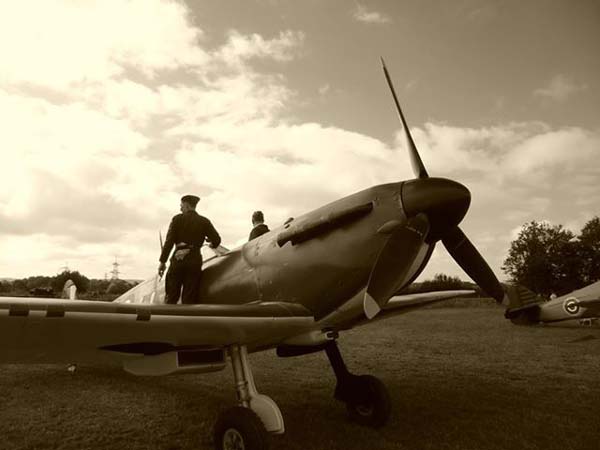 Flight Crew Preparing the Planes for a Night Time Escort
Monique Bass, Battle4Europe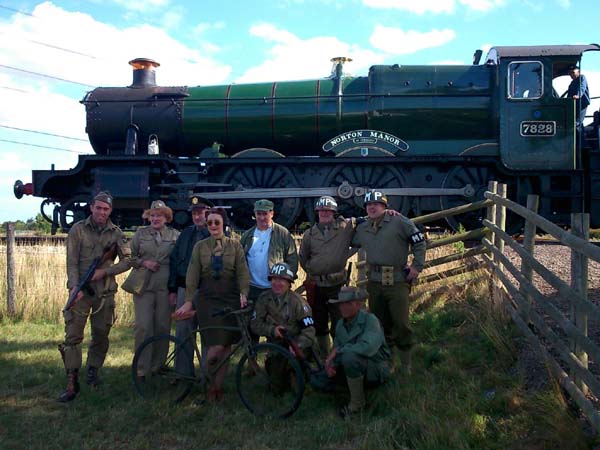 A Surprise Visit From the Steam Engine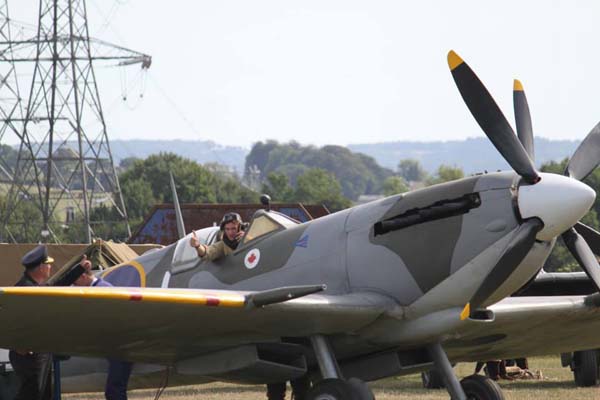 Pilot Richard Bass Ready for Take Off
Monique Bass, Battle4Europe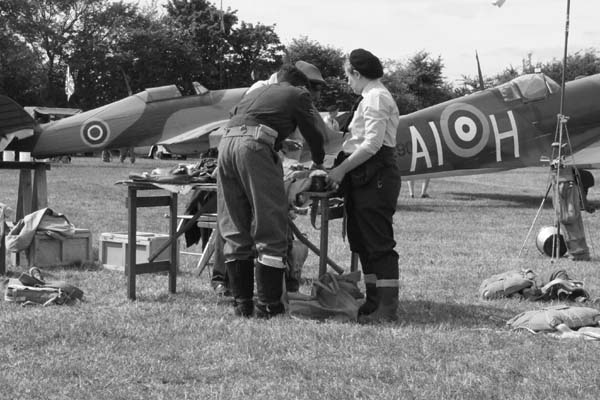 Getting Everything Ready for the Pilots
Monique Bass, Battle4Europe
Air Vice Marshall Has a Encouraging Word with the Pilots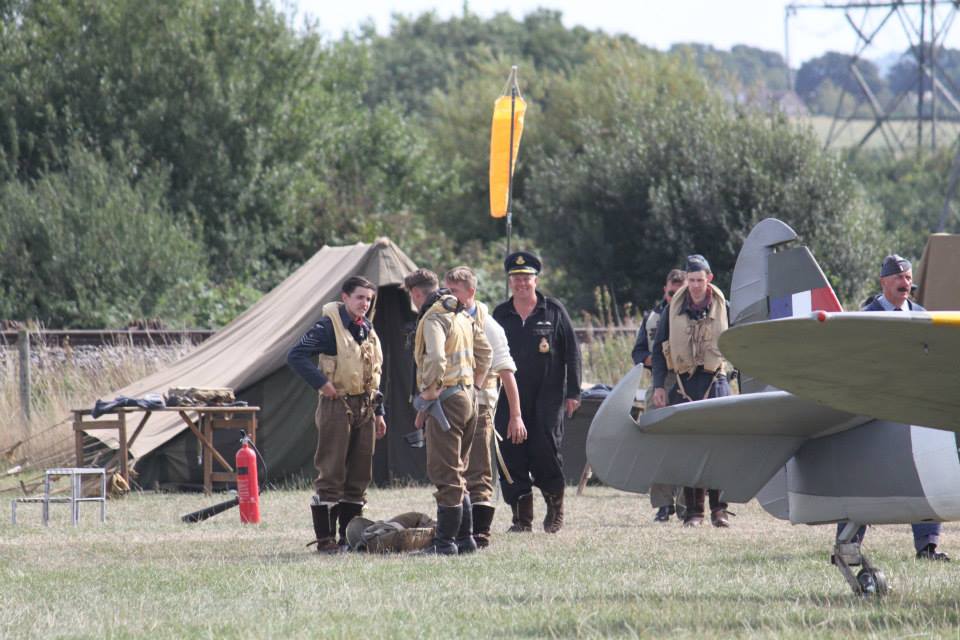 All Back Safe and Sound after a Successful Flight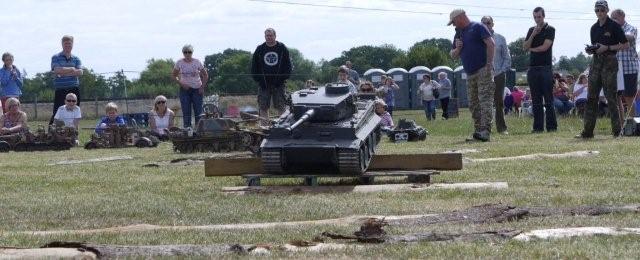 1/6 Scale Tanks Show that they are just as powerful as their larger counterparts
Jasmine Ballardie, Taunton.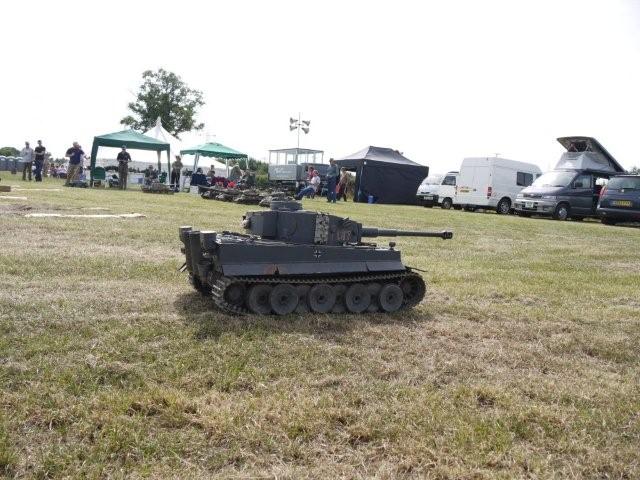 German Tank Showing What it can do During the Display
Jasmine Ballardie, Taunton.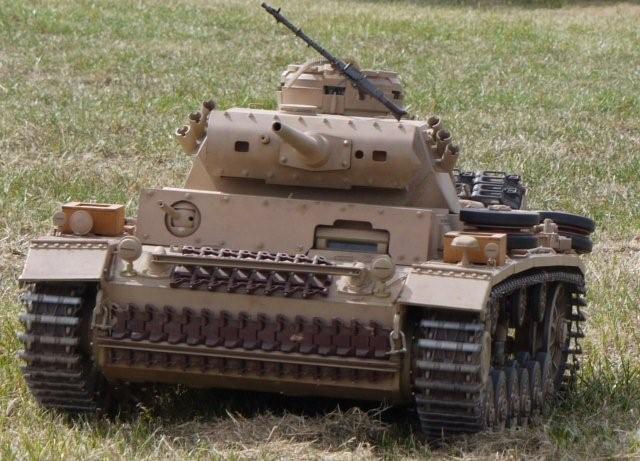 They may be Small but the are Defiantly Still Mighty
Jasmine Ballardie, Taunton.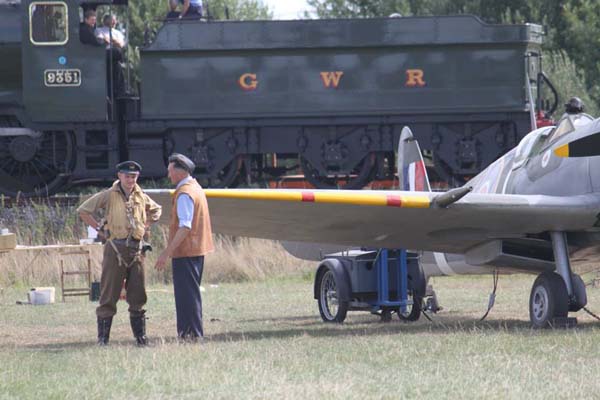 Checking On Repairs With the Ground Crew
Monique Bass, Battle4Europe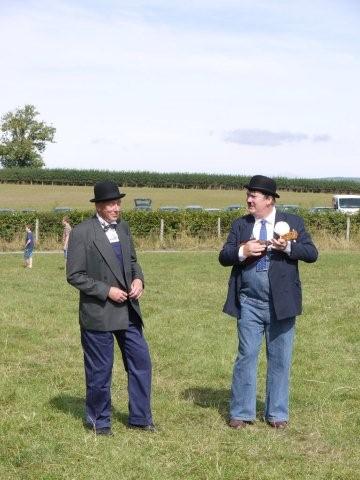 Blitz and Peaces do Laurel and Hardy
Jasmine Ballardie, Taunton.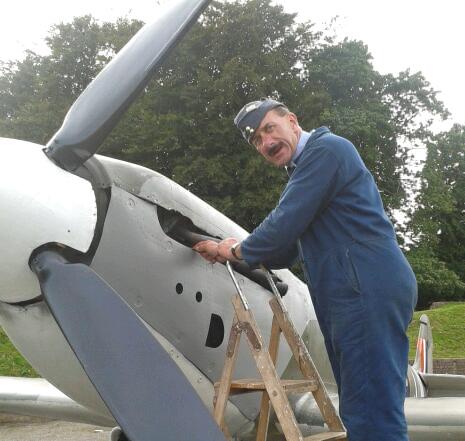 Flight Engineer Checks all is ok before takeoff
Richard Pentney, Taunton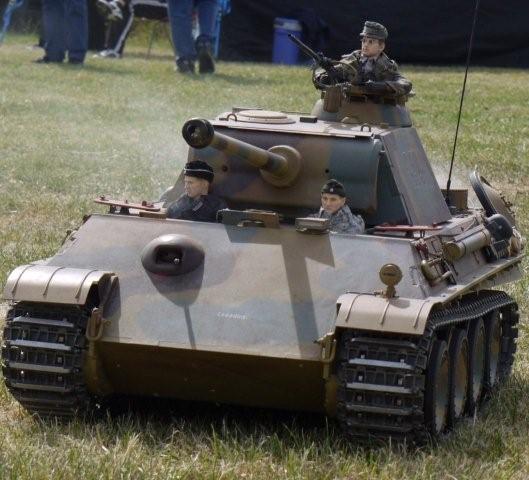 A Fine Example of Russian Engineering
Jasmine Ballardie, Taunton.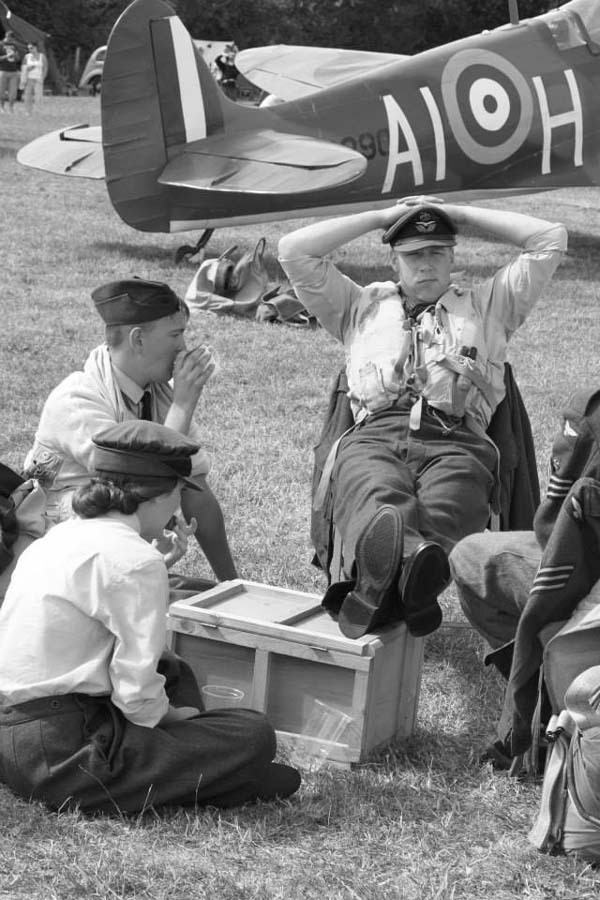 Pilots Resting Back at Base
Monique Bass, Battle4Europe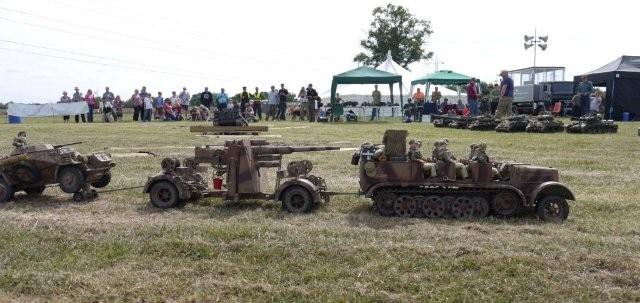 A Large Selection of Armored Vehicles Patrol the Arena
Jasmine Ballardie, Taunton
.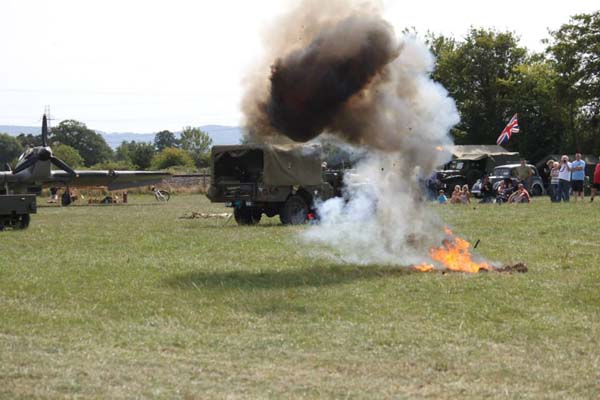 The Crowd Looks on in Amazement as the Stukas Attack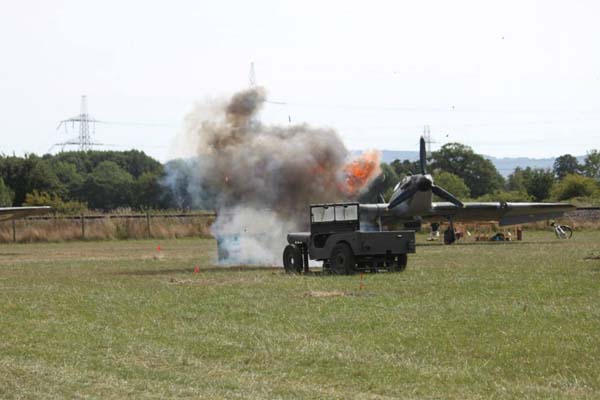 Another near Miss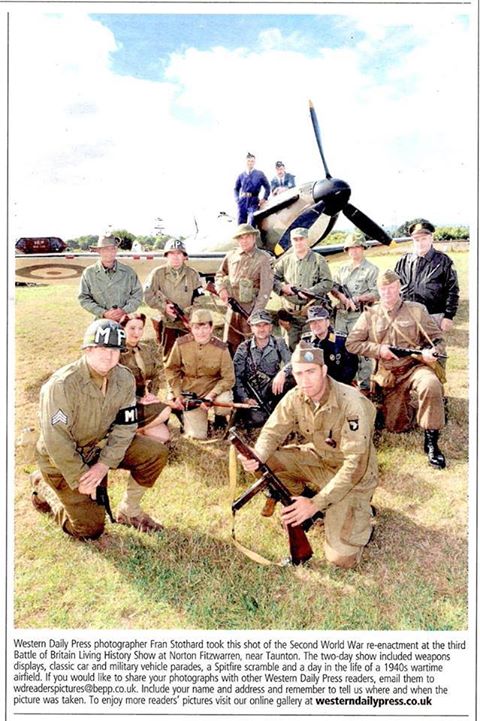 Servicemen and Women always have time for the local rag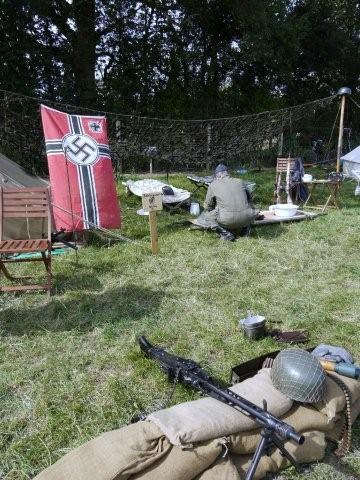 A German War Display
Jasmine Ballardie, Taunton.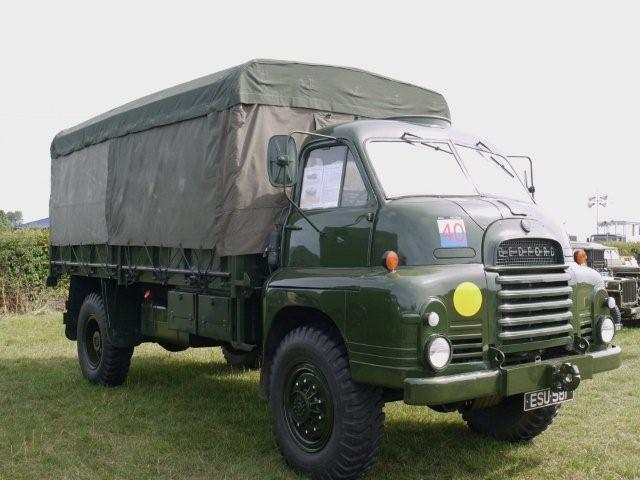 Bedford RL
Jasmine Ballardie, Taunton.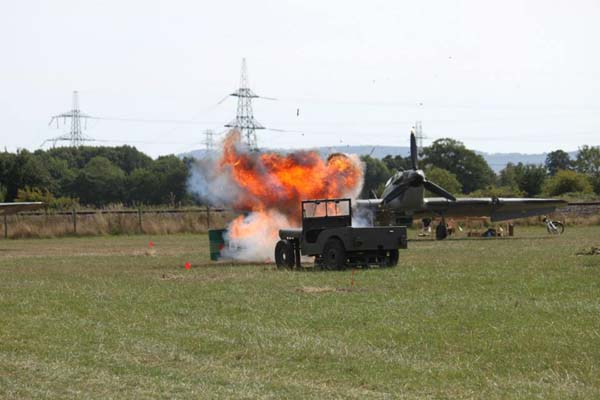 Look at all that Fire!!!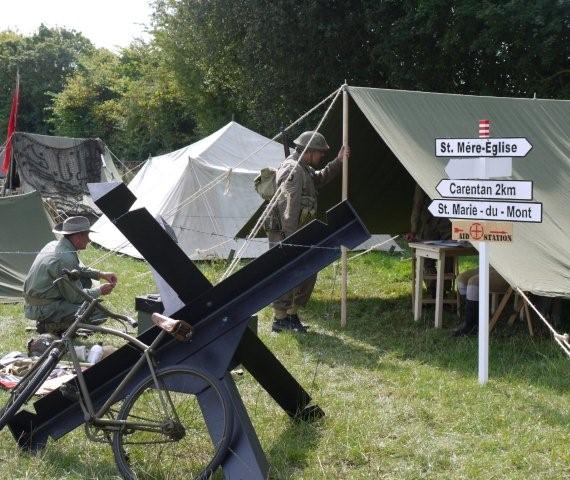 Reporting Back to base
Jasmine Ballardie, Taunton.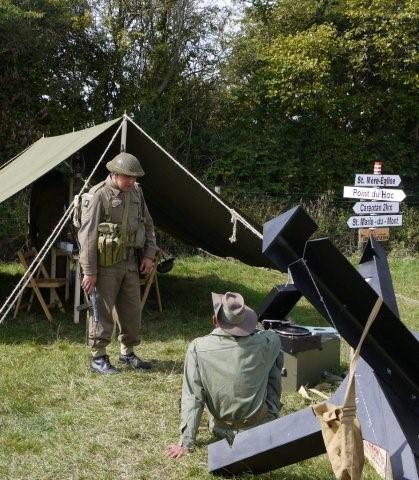 American and Australian Soldiers working together in France
Jasmine Ballardie, Taunton.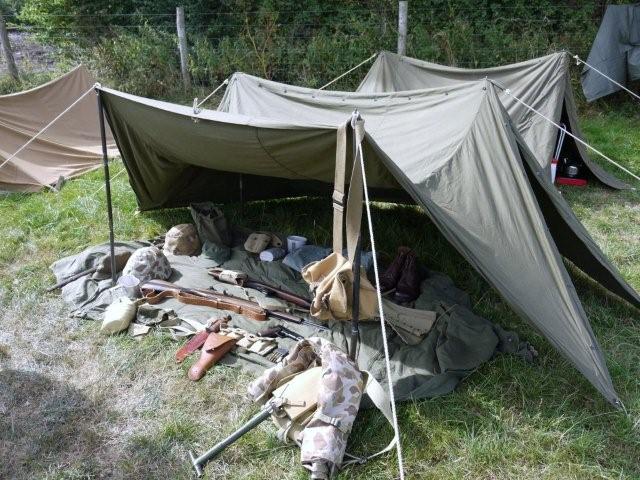 A Good Serviceman always keeps his kit handy
Jasmine Ballardie, Taunton.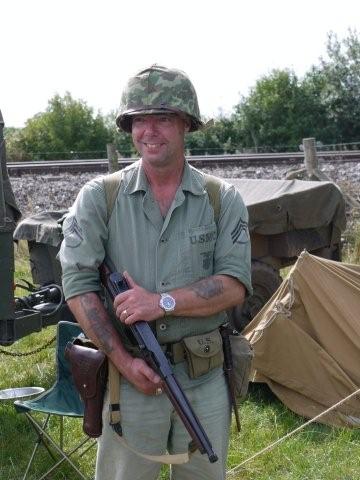 USMC are always on Hand
Jasmine Ballardie, Taunton.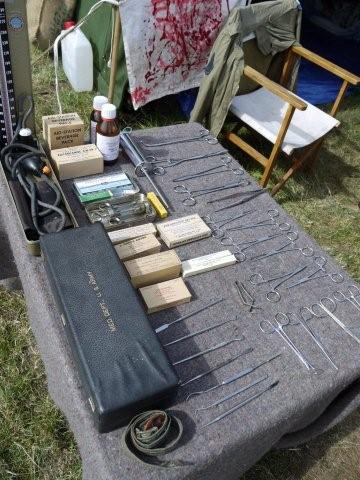 All the Tools set out for the Field Hospital
Jasmine Ballardie, Taunton.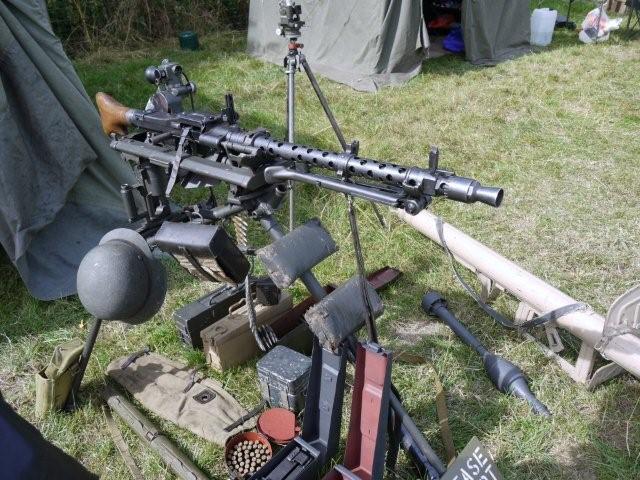 A Very Deadly MG42 and Panzerschreck Rocket Launcher Showing the Might of the German Army
Jasmine Ballardie, Taunton.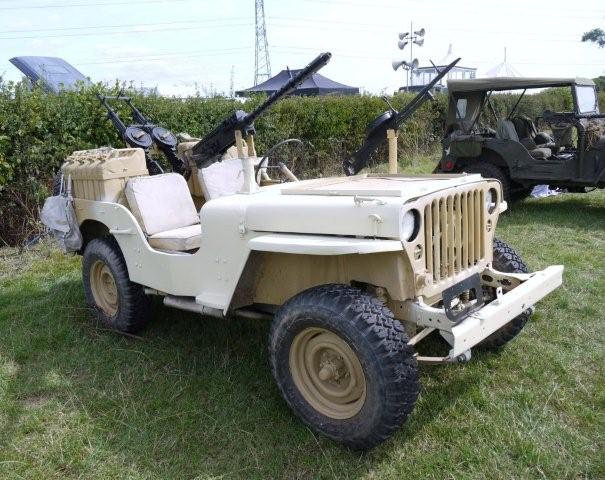 1942 Willys Jeep Painted in Desert SAS Colors Complete with Vickers K Machine Guns
Jasmine Ballardie, Taunton.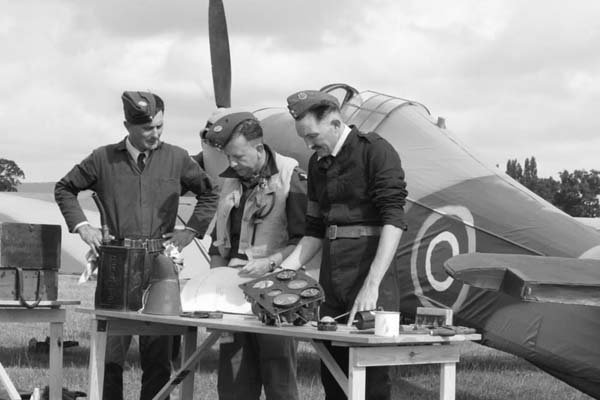 Going Through the Repair Checklist for the Hurricane
Monique Bass, Battle4Europe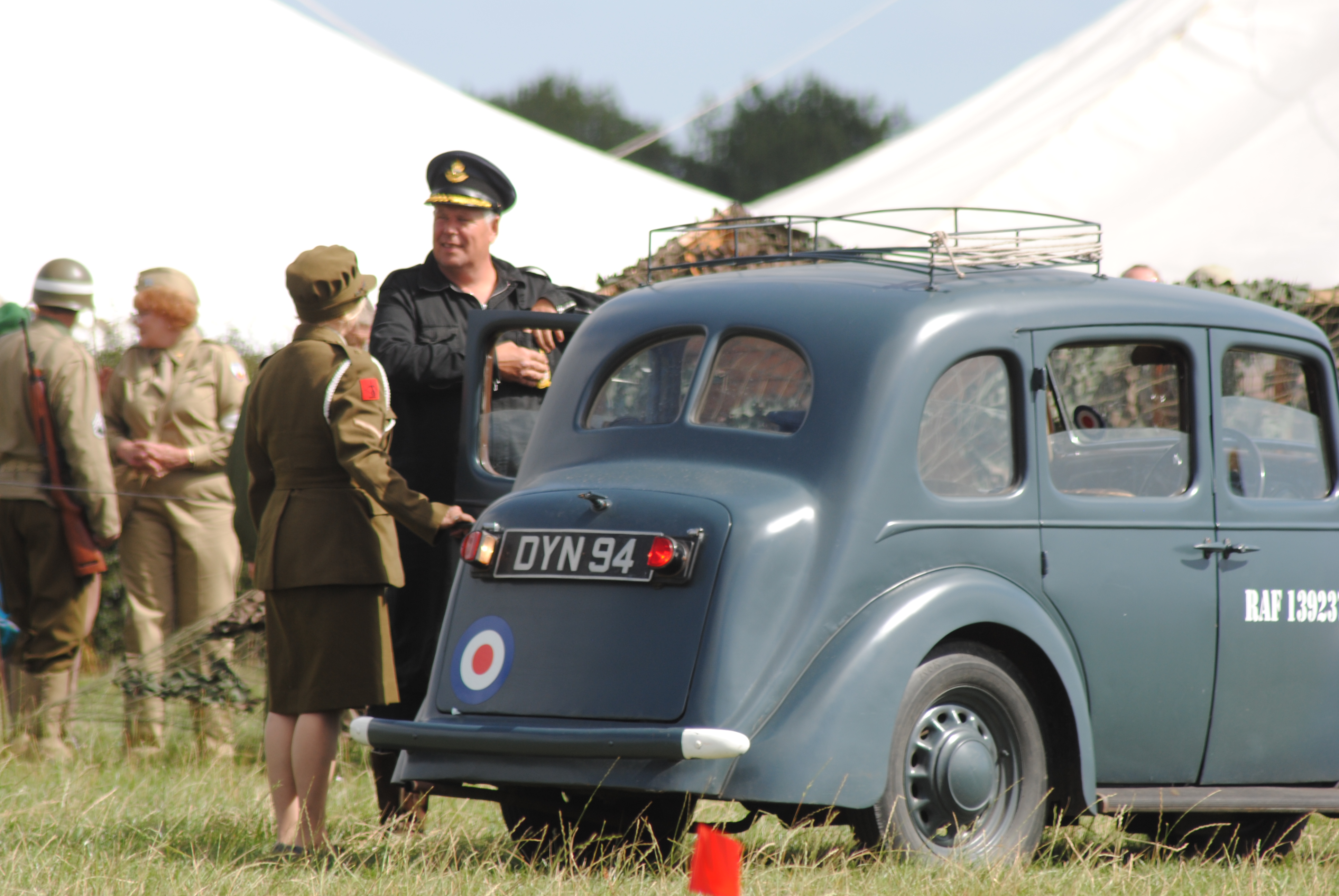 Anticipation Before the Main Event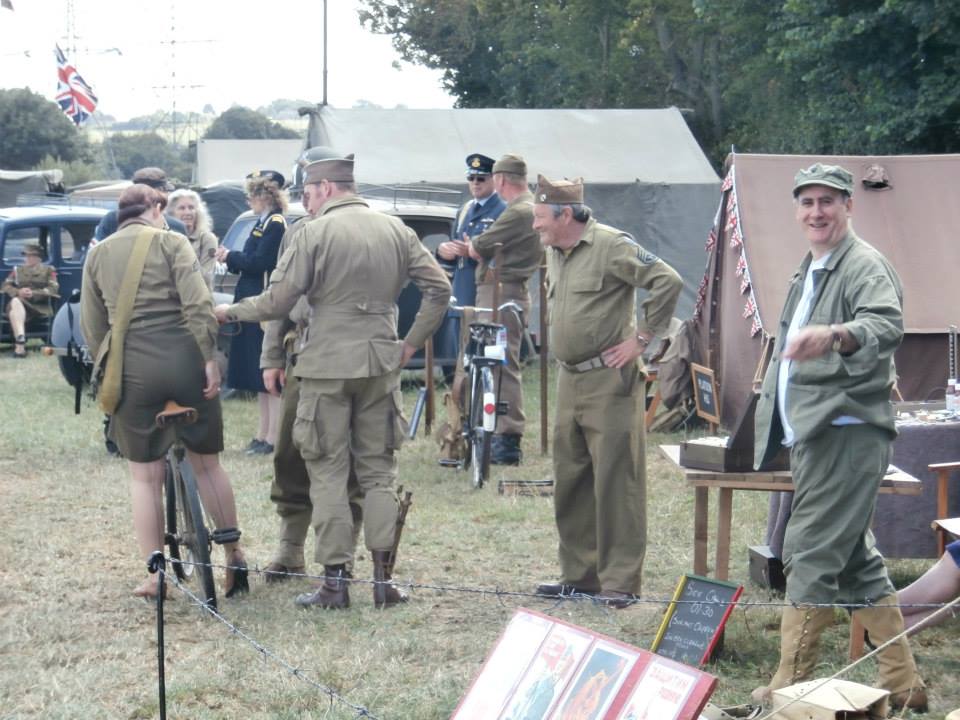 The Reenactments are in Full Swing Throughout the Day
WW2ReenactmentSouthWest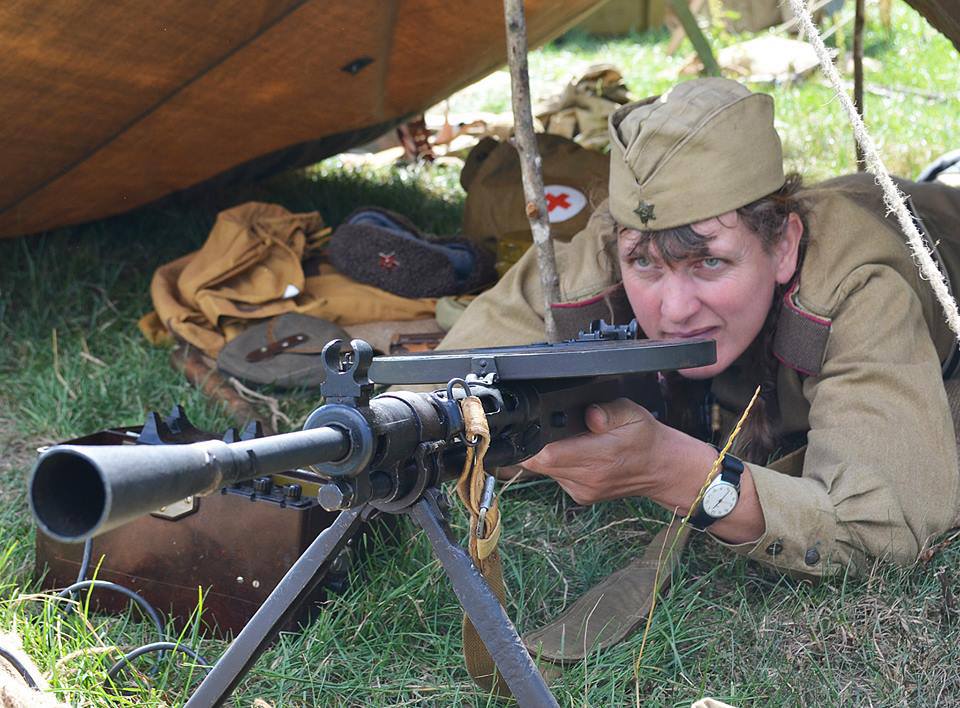 Laying Down Covering Fire for the Russian Troops
WW2ReenactmentSouthWest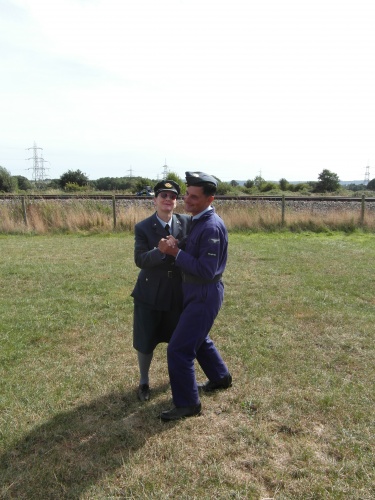 Even though there's a war on there is still time for a dance or two
WW2ReenactmentSouthWest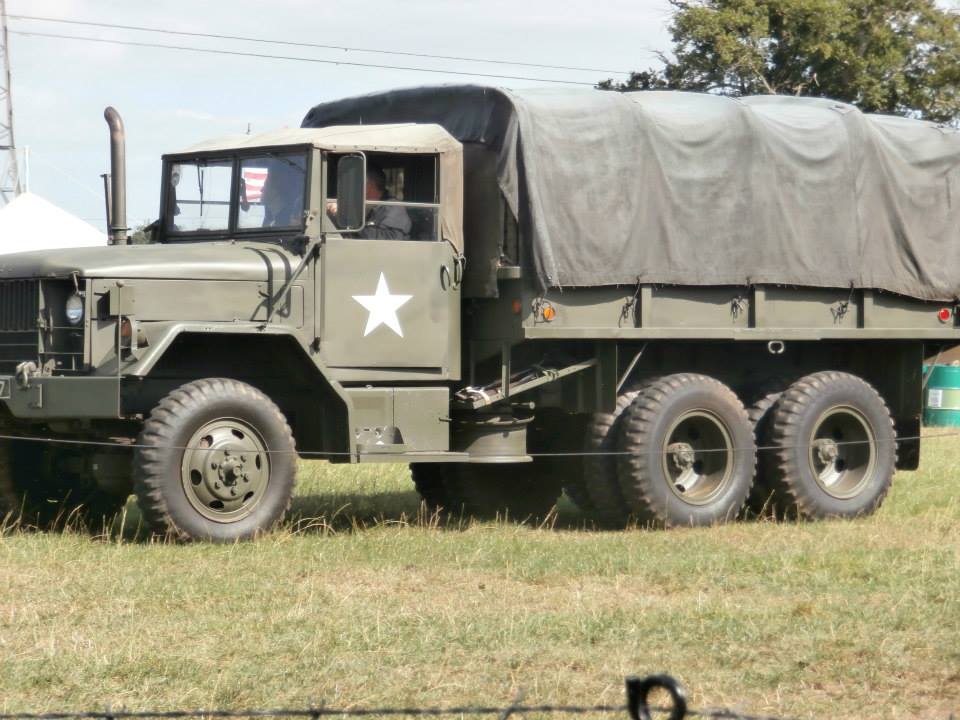 Reo M35 With Owner Graham Adlam During Military Vehicle Display
WW2ReenactmentSouthWest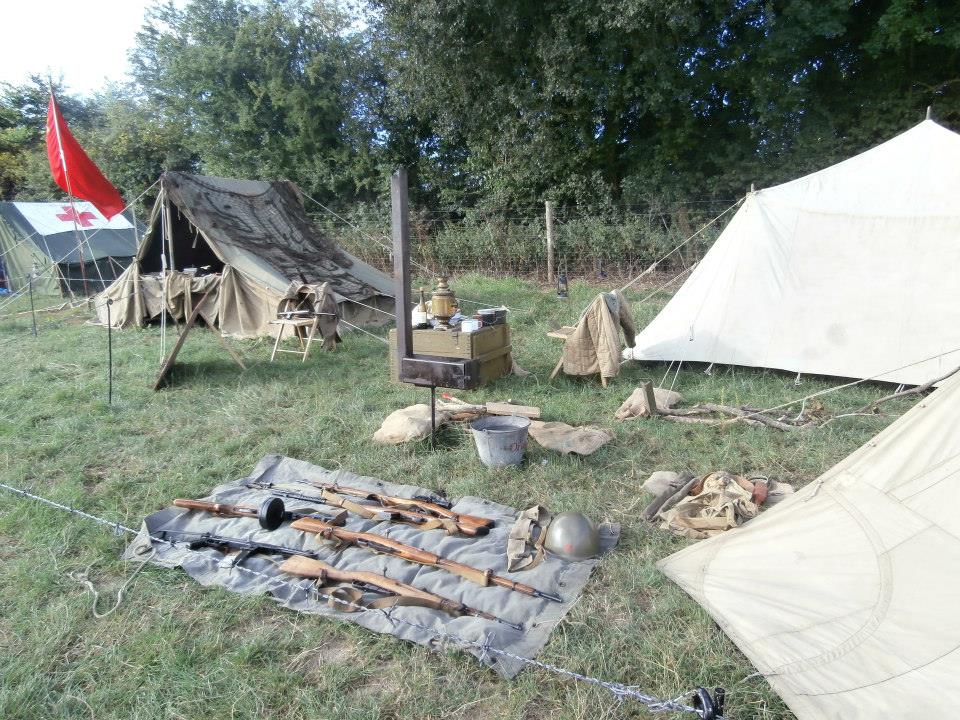 In the Russian Camp Order is Maintained throughout the Day
WW2ReenactmentSouthWest
Saturday night 1940's party
This years entertainment on Saturday night after the show closes will be for Exhibitors, traders and staff with concessions in the Beer tent
Spitfire start ups.
Spitfire start ups. These can be booked through Richard Bass at the Spitfire RAF display. Please note there is a charge of £35 to cover fuel and maintenance. The 27Ltr Rolls Royce engine engine burns between 1 to 1 1/2 gallons a minute of 100 octane aviation fuel. You will be able to sit in the cockpit for around 20 minutes and start up and run the engine for two minutes. This is the maximum time it can be run before it starts to over heat. There are limited slots as the engine takes a long time to cool down so booking times are approximate. First come first served.
Dicky Bass and the battle for Europe crew will be setting up their display around the Spitfire at this years show.
All re enactors, displays and military vehicle owners will be admitted free to the show, camping and evening party. You must have booked in and must be part of a display, walk in re enactors who are not booked in should apply for tickets.
map with new location now available for download on how to find us link under
How to find us link
Show Rules health and safety link
Lastly we hope you enjoy www.SpitfireSpares.com and look forward to hearing from you.
Graham Adlam
Spitfires Spares
Site owner
England